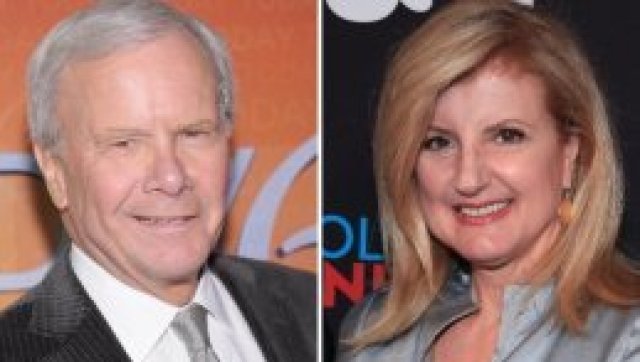 Last Wednesday in Tampa during the RNC, The Huffington Post held the first of our two-part panel discussion on job creation. Moderated by Tom Brokaw, the panel surfaced a number of viable ideas and potential solutions to the job crisis, one that sees more than 20 million Americans unemployed or underemployed.
Today, HuffPost is hosting the second part of the series, in Charlotte during the DNC. Watch here for a live blog of the proceedings, featuring the posts, tweets, and photos of students from the University of North Carolina-Charlotte and Lynn University.
The panel is being moderated by NBC News' Tom Brokaw and features: Allen Blue (Co-founder, LinkedIn), Scott Case (CEO, Startup America), Gerald Chertavian (CEO, Year Up), Rosario Dawson (Founder, Voto Latino and Actress), Jeremy Heimans (CEO, Purpose), Walter Isaacson (CEO, Aspen Institute), Michael Porter (Professor, Harvard Business School), Judith Rodin (CEO, Rockefeller Foundation), Brad Smith (General Counsel, Microsoft), Andrew Yang (CEO, Venture for America) and Arianna Huffington (Editor-in-Chief, Huffington Post).
The lunch and panel discussion will take place from 12:30-2:30 ET. Watch the event above and the discussion below.
09/05/2012 3:22 PM EDT
Will.i.am's motto catches on
Just like founders @bphealth on job creation, @iamwill's motto - "I am not stopping until it is poppin!" #whatisworking pic.twitter.com/rLpDbAPw
09/05/2012 3:03 PM EDT
Office hours with @tscottcase
@startupamerica
.@ab_hi_ @enmedical @myedgps join @tscottcase for Office Hours at @HuffingtonPost #WhatIsWorking #DNC2012 pic.twitter.com/bRctsj1B
09/05/2012 2:51 PM EDT
Don't Escape the Ghetto
"Don't escape the ghetto. Go back to to the ghetto so the ghetto doesn't become a ghetto. Boom." - @iamwill #whatisworking
09/05/2012 2:46 PM EDT
A student tweeting from the audience meets @rosariodawson
@ashbash_23 Me and actress Rosario Dawson!!! pic.twitter.com/AXX23nY3
09/05/2012 2:11 PM EDT
What's more expensive than going to college?
09/05/2012 2:08 PM EDT
When we graduate
@ HuffPostCollege :

"Ask 100 random Americans when they got their degree. Only 8 will say it was before 22 years old." CEO Year UP #whatisworking
09/05/2012 2:08 PM EDT
Prison spending v. state school spending
More on what @iamwill calls crazy. Prison spending v. State college spending
http://huff.to/PmM1Ml
09/05/2012 1:59 PM EDT
The policy we need
"We need policy that reflects the fact that we work and go to school at the same time." - CEO Year Up #whatisworking

— Ashley S. Williams (@Ash_Bash23) September 5, 2012
09/05/2012 1:42 PM EDT
The future of local job growth
Mayor Castro: Model for San Antonio is entering contracts with large companies invested in hiring, training local employees#whatisworking

— Huffington Post (@HuffingtonPost) September 5, 2012