One day into the Democratic National Convention, the party's speakers had already said more positive things about President Barack Obama than GOP supporters said about Mitt Romney all of last week, during the Republican National Convention. We know. We counted.
Using a new Convention Mention Meter tracking tool, HuffPost's Off The Bus bloggers found 250 favorable Obama mentions on Tuesday alone, as compared to just 213 favorable Romney mentions throughout the entire RNC.
To wit: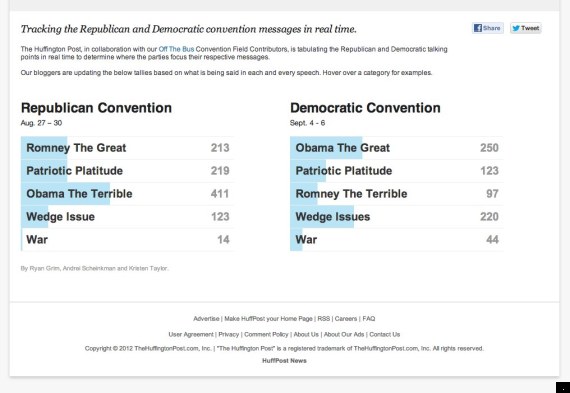 Thus far Democrats have praised Obama roughly twice as often as they've attacked Romney -- 447 to 223. Those numbers were boosted by former President Bill Clinton's rambling epic of a speech on Wednesday night, in which he mentioned Obama 33 times in 48 minutes. At the RNC last week, the numbers were reversed, with speakers attacking Obama roughly twice as often as they praised their candidate -- 411 to 213.
Whether the numbers reflect a lack of enthusiasm for Romney or merely the imperative to attack an incumbent in the months leading up to an election, the data is unequivocal. The two graphs below offer a good breakdown of Romney and Obama mentions at the RNC versus the DNC going into the final night of the conventions.
Graphics by Chris Spurlock.
BEFORE YOU GO