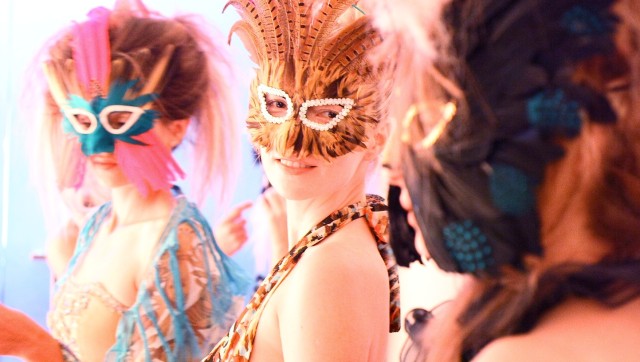 TOP 5 FOR THURSDAY, SEPTEMBER 6
1. Fashion's Night Out
Over 100 different businesses will be participating in this yearly event. Salons, restaurants, boutiques and more in Georgetown will have specials from 6 to 10 p.m. Bring an umbrella, you'll want to wander all night. Multiple venues, times
2. Beyond the Parking Lot Opening Reception At Artisphere
See the recently opened Artisphere exhibit with a crowd of art and nature loving Joni Mitchell fans. 7 p.m., all ages, no cover
3. DC Shorts Film Festival
The 10 day film festival begins today. Read our reviews of today's showcases. Multiples venues, times
4. Boyz II Men At Howard Theatre
Nostalgia tour! Re-live your favorite junior-high slow-dance moments. 8 p.m., all ages, $64
5. Phillips After 5 At Phillips Collection
This special After 5 event celebrates the Phillips new website. Play with interactive media, listen to music and visit the temporary tattoo parlor for a QR code that takes you to a custom event page. 5 p.m., 21+, $10 to $12
TOP 5 FOR THE NEXT 5 DAYS
Friday, September 7
Sondre Lerche at 9:30 Club
The dapper crooner is also a dapper indie rock frontman. Admit your crush. It's OK. He'll break your heart but you'll be a better music fan for it.
Saturday, September 8
Salute to Summer's End Historic Tour at St Elizabeths East
Here's your chance to explore the formerly closed campus.
Sunday, September 9
The Jesus and Mary Chain at 9:30 Club
You're never going to be able to see The Velvet Underground so you might as well see the group most influenced by The Velvet Underground.
Monday, September 10
"Three Amigos!" at AFI Silver Spring
Remember when everybody liked Chevy Chase?
Tuesday, September 11
Look Who's Talking: Social Media, Theatre, and the Arts at Busboys and Poets
If you're not utilizing Facebook and Twitter and are involved in the arts, you need to learn how to utilize Facebook and Twitter.
PHOTO GALLERY
Fashion's Night Out DC
BEFORE YOU GO