Hurricane Leslie is expected to move along a northward path up the Atlantic Ocean, affecting Bermuda, New England and Canada on its way.
Hurricane Leslie was far east in the Atlantic on Thursday afternoon, but the path is expected to take Leslie toward Bermuda, according to meteorologist David Epstein, reporting for Boston.com. The storm will make its closest pass by New England on Monday or Tuesday of next week as waves build along the Atlantic this weekend.
Hurricane Leslie's mapped path. Story continues below.

The National Hurricane Center reported Thursday morning that the storm had barely moved since Wednesday night, traveling along its path at a slow 2 mph with sustained winds at 75 mph. Although there are no coastal warnings or watches in effect, the NHC reports that Hurricane Leslie is expected to gain momentum:
MAXIMUM SUSTAINED WINDS REMAIN NEAR 75 MPH...120 KM/H...WITH HIGHER
GUSTS. LESLIE IS A CATEGORY ONE HURRICANE ON THE SAFFIR-SIMPSON
HURRICANE WIND SCALE. NO SIGNIFICANT CHANGE IN STRENGTH IS EXPECTED
TODAY...BUT LESLIE SHOULD BEGIN TO INTENSIFY ON FRIDAY.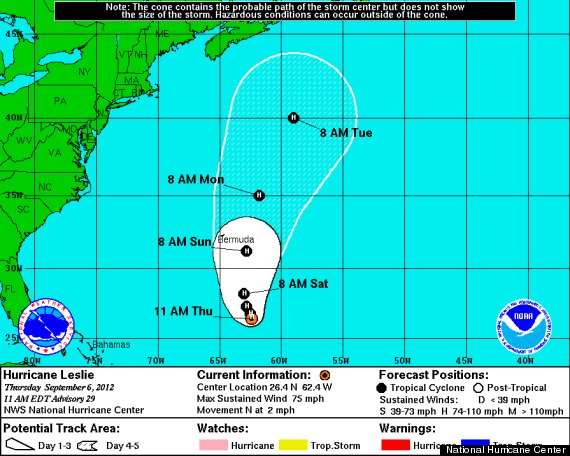 Chris Fogarty of the Canadian Hurricane Centre told CTV News that, if the storm moves north, Hurricane Leslie may hit Newfoundland and Nova Scotia on Tuesday. However, he noted that the storm can still change paths.
"There are still lots of unknowns in the prediction of this thing yet," Fogarty told CTV News. "The steering currents for it are extremely weak and it could just as easily drift southward before moving north again. That's why we're cautioning people not to focus in too much on the official track."
Leslie is joined by Hurricane Michael, the seventh hurricane of the 2012 season in the Atlantic. The U.S. National Hurricane Center in Miami reported that Michael was located about 1,060 miles southwest of the Azores Wednesday night, according to the Associated Press. Hurricane Michael is carrying winds of 75 mph and moving northeast at 7 mph, but currently poses no immediate threat to land.
Leslie and Michael come on the heels of Hurricane Isaac, which caused massive flooding in Louisiana and took the lives of at least seven people.
BEFORE YOU GO
PHOTO GALLERY
Hurricane Leslie