Almost a year after unveiling its first ever color tablet, Amazon is back with four more Kindle Fires -- one of them with what is likely the cheapest data plan you'll ever see, three of them with bright, shiny screens, and all four of them aiming squarely (or rectangularly, as it were) at Apple and its iPad.
At a press conference in Santa Monica, Amazon CEO Jeff Bezos unveiled the Kindle Fire HD, a tablet similar to the original Kindle Fire in design but with a high-resolution display added on to the front. The new HD tablet will be available in two screen sizes (a 7-inch display, as on the original Kindle Fire, and a larger 8.9-inch display), in either Wi-Fi or 4G LTE versions. Each display will boast a 1,920x1,200 resolution and will improve on the problems with glare that the original Kindle Fire suffered from, according to Bezos. The Kindle Fire HD is equipped with Bluetooth, HDMI out, and dual stereo speakers (which Bezos noted was one more speaker than on the iPad, according to Engadget); it is also the first tablet with "Dolby Digital Plus" audio technology. Bezos also played up the new Wi-Fi technology in the Kindle Fire HD, claiming that the technology within will cut down on interference and more reliably connect to networks; Bezos also said that the Fire HD's Wi-Fi is 41 percent faster than that of the new iPad, per Engadget).
Check out the new Kindle Fire HD tablets in the photo (below), courtesy of Engadget.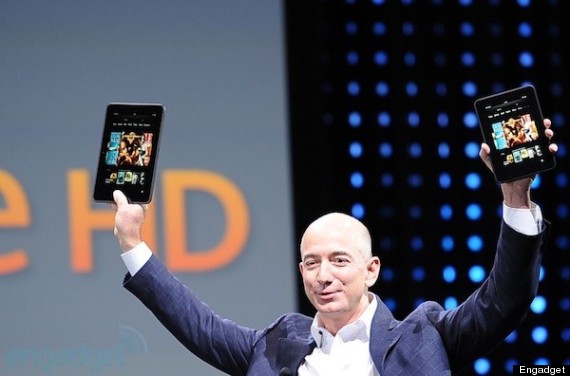 Bezos also detailed several new software features for Amazon's inventive Android-based operating system. The Kindle Fire HD adds a front-facing camera, and Skype has built an app especially for the Fire; Facebook, too, has designed a new app, and Amazon has updated its own much-bemoaned email app for better Exchange integration, the ability to sync contacts and calendars, and faster email fetching. An interesting feature called X-Ray for Movies will allow you to tap on any actor's face in a movie or television show to bring up that actor's filmography and other information: This service is being powered by popular film database IMDB and is similar to Amazon's X-Ray feature for books on the Kindle Touch, which brings up dictionaries, word glossaries, and other educational tools.
Other new features include a parental control option called Kindle FreeTime, which will allow moms and dads to set time limits on how long they'll allow their kids to play on the Kindle Fire per day. Parents can also designate the number of hours that can be spent by category, meaning a kid could read for an unlimited amount of time but might only get 30 minutes of game time and an hour of movie or TV viewing time. Another feature, Whispersync for Games, lets gamers save their progress on certain games across devices; so, if you beat thirty levels on your Kindle Fire HD, and then buy a different Kindle Fire, you won't have to start over on the new tablet.
These new devices -- the Kindle Fire HDs, as well as the Kindle Paperwhite -- represent the first update to the Kindle line since September 2011, when Amazon debuted the $199 Kindle Fire tablet and three Kindle e-readers: The Kindle Touch 3G, the $99 Kindle Touch, and the $79 Kindle with physical page-turning buttons. It was the Kindle Fire that stole the show, with high demand for the cheap 7-inch tablet when it was released in November. Though Amazon does not release sales numbers, the company did recently claim to own 22 percent tablet market share, which Anthony Diclemente of Barclays Capital estimates as 7 million tablets sold.
The real star of the show, as has become usual for Amazon, was the prices of these new gadgets, revealed to audible gasps from the crowd in attendance according to The Verge. The original Kindle Fire has been updated for better battery life, twice as much RAM and faster performance and gets a price cut to $159, down from the initial $199 price. The 7-inch Kindle Fire HD, which comes with 16GB storage, will cost $199. The 8.9-inch Kindle Fire HD (also a 16GB device) will cost $299. The 8.9-inch, 32GB Kindle Fire HD with 4G LTE will cost $499 and comes with a data plan through Amazon that gives you 250MB a month, 20GB of cloud storage, and $10 credit in the Amazon App Store for an astounding $49.99 per year. (Bezos addressed the comparatively low prices of these tablets by saying Amazon hopes to make money from people buying Amazon content on the devices. "If someone buys hardware and never uses it, we don't deserve to make money," Engadget quoted him as saying).
The new Kindle Fire HDs will ship on November 20th but should be available for pre-order immediately. Engadget has photos of the new devices.
Here are some of the best reactions to the new Kindle Paperwhite and Kindle Fire HD from Twitter:
PHOTO GALLERY
Twitter Reacts To Kindle Fire HD
CORRECTION: An earlier version of this story called the new Amazon eReader the "Kindle Paperweight." It is, in fact, the "Kindle Paperwhite."