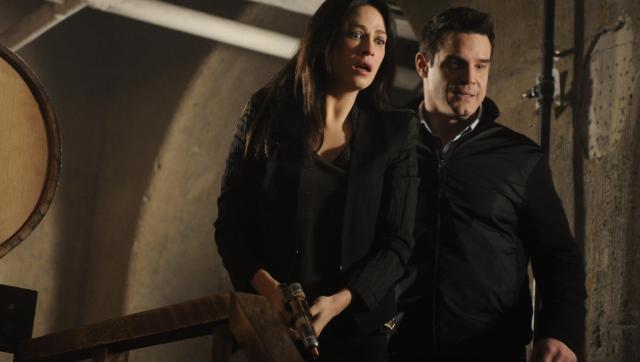 In her skin-tight black pants, badass black boots and devil-may-care white T-shirt, Agent Myka Bering looks a tad out of place on a hoity-toity golf course. Her partner, Pete Lattimer, on the other hand, fits right in with his dapper Polo shirt and perfectly creased pants.
We're on the set of Season 4 of "Warehouse 13," watching Myka (Joanne Kelly) and Pete (Eddie McClintock) trying to figure out what supernatural forces may have killed a man who died of apparent altitude exposure on a sunny Las Vegas golf course. (We're actually at the pristine Scarborough Golf Club, on the east side of Toronto, which also doubles for a horse racetrack in England later on.)
Fans are eagerly awaiting the return of the hugely popular show about a band of misfits who protect the world from rogue artifacts with minds of their own. "In my estimation, it really is a family show with a lot of extras," says McClintock, when asked why he thinks the show has attracted so many devoted fans.
Of course, people also love seeing the artifacts. McClintock's own personal favorite artifact from past seasons is Abe Lincoln's hat, which gave Pete an uncontrollable urge to "free" the warehouse boss Mrs. Frederic. ""It's funny, clever, poignant. It's so smart that the audience doesn't take offence," says McClintock. "It's done with good intentions."
Last season ended with a lot of major events (SPOILER ALERT!) -- including the death of Steve, played by Aaron Ashmore. "I've died a lot on TV shows," says Ashmore, laughing. Fans will be relieved to hear that Steve is back for Season 4 -- but they'll have to watch to see just how that's possible.
We know a lot of you can't wait to find out what happens in Season 4, so we've compiled a list of 13 essential things to know. We recruited a little help from Kelly, McClintock, Ashmore and Allison Scagliotti (who plays Claudia) to satiate at least a little bit of your curiosity. (Sadly, Saul Rubinek, who plays Artie, wasn't on set the day we stopped by.)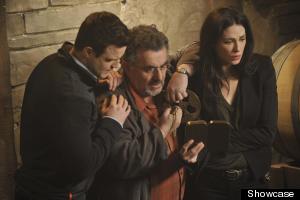 1. "This season is really huge," says Kelly. "It's bigger, better, faster. We see each of the characters go through an arc this year." Scagliotti agrees. "We went out with a huge bang, literally. We have to bring back everything that we lost," she says.
2. "Artie is haunted all season," Scagliotti reveals, without elaborating. (You'll have to watch to find out more!)
3. "Myka is less annoyed by Pete's seeming immaturity," says McClintock. "She gets that he uses [immaturity] to keep himself safe."
4. "Claudia is given more responsibility. She's being groomed by Mrs. Frederic," says Scagliotti. Claudia gets to tackle field assignments this season, including a memorable episode where she's paired with Pete.
5. Steve and Claudia are still close, but their relationship isn't quite as playful as it was last season. "There's a greater co-dependence between them," says Scagliotti. Ashmore agrees. "There's definitely a darker tone to the relationship," he says.
6. "One of the characters will be irrevocably changed," Kelly teases cryptically.
7. "Star Trek" babe Jeri Ryan is back this season as Pete's ex-wife. "She's an icon. It just makes me look good," says McClintock. "The first day I met her, I told her that she just raised my stud credentials exponentially."
8. "With the loss of the warehouse, she's a bit lost," Kelly says of her character, Myka.
9. Kelly reveals that fan favorite H.G. Wells (Jaime Murray) will be back. "I hope that's not a spoiler!" she says.
10. Ashmore says there's going to be an episode about a very cool artifact from one of the biggest movies of all time. Of course, if he tells us any more he'd have to kill us.
11. Kelly has influenced Myka's wardrobe a bit over the years. "I wanted to give her flip glasses," she says, adding that she has the same pair in real life. "It's part of her essential goofiness." Myka's hair is back to messy curls this season, following last year's sleek straightened look. "She's really frumpy. There's something so uncool about her."
12. In case you were wondering, Scagliotti is not a tech geek in real life, and Ashmore can't spot liars any better than the next guy. "My mom thinks I'm a tech geek, but my tech expertise extends to formatting my iPod," says Scagliotti, laughing. "The secret to playing a computer hacker on TV is just spewing all that techno babble as fast as possible and then looking very self-satisfied."
13. It may be completely unrelated to the season, but this tidbit is too cool not to mention: McClintock is currently collaborating with George A. Romero and "Warehouse 13" stunt coordinator Matt Birman on a movie called "Road of the Dead," in which zombies have learned how to drive. McClintock says he totally geeked out the first time he met Romero at a lunch meeting. "I made him hug me and pose for a picture," he recalls. "I sucked his ass for a while."
Season 4 of "Warehouse 13" premieres in Canada on Showcase on Friday, September 7 at 10 p.m. ET/ PT.
PHOTO GALLERY
Shaw Media Fall TV Schedule 2012-13: New Shows
BEFORE YOU GO