To Walmart or not to Walmart? That is the question being debated by residents of the Congress Park neighborhood near 9th and Colorado Blvd., where a new "urban" Walmart has been proposed by property developer Jeff Fuqua.
Fuqua wants to turn the old, abandoned University of Colorado Hospital property into a proposed mix of luxury apartments, dining and retail options, all anchored by what is described as an upscale Walmart.
However, some residents are so against the idea of a Walmart in the area that they have put up red yard signs, like the one below, with bold, white text reading "NO WALMART," from Denis Moynihan, creator of the StopWalmartColorado.com website. Residents can donate $10 and get a yard sign of their own to voice their opinion about the big-box behemoth setting up shop.
LOOK: "No Walmart" sign, via StopWalmartColorado.com: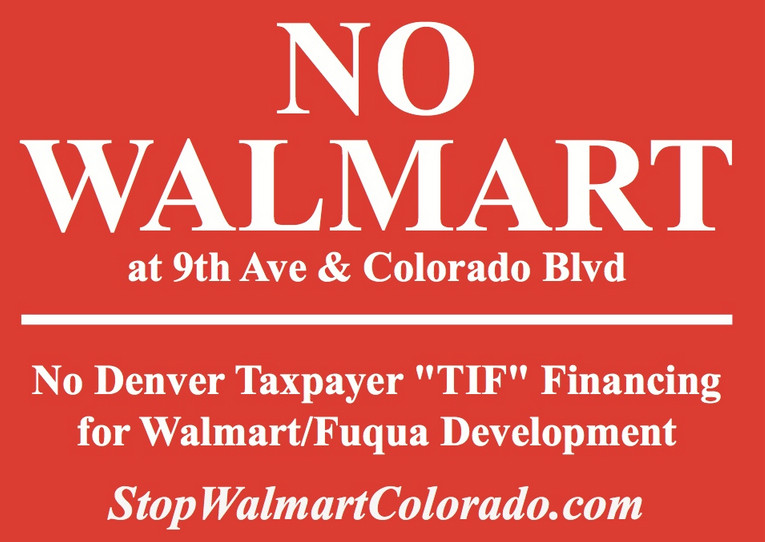 Moynihan told The Denver Post that he has distributed close to 1,000 signs already. On his website he links out to several reports that represent why he, and many others, are against Walmart including: the driving down of worker wages, forcing of local retailers to go out of business, the longterm negative impacts on the city economy and diminishing home sales and property values in the area of a Walmart.
A Thursday public meeting to discuss the redevelopment project further was focused on related transportation issues and residents were reportedly concerned about the projected 14,000 vehicle trips per day that the new Walmart could bring to an already congested Colorado Blvd., 9News reported.
Residents have also voiced concern that the Walmart retailer could introduce new crime to the neighborhood and could negatively affect local businesses. At an August public meeting about the project, the residents of Congress Park were not receptive to the proposition of a Walmart near their historic Denver neighborhood. One resident told CBS4, "Big box stores do nothing for the surrounding neighborhoods. Walmart, in particular, is detrimental to local businesses."
In that same area near 9th and Colorado there other chain stores being proposed like Trader Joe's and Chipotle, but residents were not concerned by those stores CBS4 reported, it was specifically Walmart and the impact it makes on a region.
Moynihan urged those against the Walmart development to wear red to the public meeting so their opposition was clearly visible to the Colorado Boulevard Healthcare District board. Yard signs were going to be available with donation and those opposed to the development could also sign the Stop Walmart Colorado petition.
But not everyone in the neighborhood is against the proposed redevelopment. 9News spoke with one neighbor who voiced concern about the abandoned nature of the site, its level of deterioration and the possibility of Fuqua ceasing development of the project which could mean years before another proposed development takes shape.
Fuqua says that he has collected around 750 letters in support of the $180 million project and most of those are from area residents, The Denver Post reports. And Mayor Michael Hancock has reportedly pushed for approval of the project as proposed via email in August. Fuqua could legally proceed with the project allowing Walmart to lease the space, but Fuqua plans on requesting public TIF (tax increment financing) funding for the project which then requires City Council approval.
A poll taken in mid-August by Congress Park residents showed overwhelming disapproval of the proposed Walmart project with all questions about the development receiving clear majority percentages of votes in opposition.
BEFORE YOU GO
PHOTO GALLERY
Nightmares That Involve Walmart