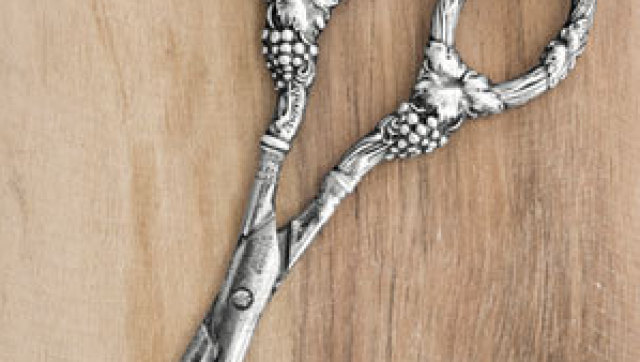 We're very excited to syndicate one of our favorite columns, 'What Is It? What Is It Worth?' from one of our favorite magazines, Country Living. All text and images below are provided by Country Living. Get ready to be surprised!
"I found these little sterling scissors at a flea market. Can you tell me if they had a special use?" - D.A., Midland, Texas
1930s Grape Shears
Our antiques specialist, Helaine Fendelman, appraises your finds and collectibles.
Around the mid-1800s, the Victorians redefined table etiquette, with specialized implements suited to every imaginable need: asparagus tongs, marrow scoops, even tiny scissors for removing grapes from the cluster and vine (only then was it permissible to eat the fruit with your fingers). Traces of the trend lingered well into the 20th century: Your Art Nouveau — inspired shears are inscribed with "DeBoer and Livingston," a 1930s Manhattan retailer. Another engraving — only legible under a magnifying glass — tells us the pair was made by the Massachusetts silversmith Webster & Co., using blades imported from Solingen, Germany, a town known for cutlery manufacturing. The 1930s might seem an incongruous time for luxury goods; but, in fact, silver prices hit an all-time low during the Great Depression.
What It's Worth: $150
Also check out on CountryLiving.com:
6 Amazing Small Space Decorating Ideas