I love this article from my friend Cindy Waitt. More and more women are choosing to marry later in life (I did!). These are some fun tips for older brides - and they're enjoyable to read, too! --MT
By Cynthia Waitt
Love is fabulous at any age, but being an older bride last year at 54, who had been at the altar twice before, did present some challenges. As I successfully worked through those challenges, I'll lay out a few ground rules for the older bride or even the older groom. See if these don't make some sense...
1. SAY YES TO THE DRESS -- This is important. It's your day, even if it's not your first day, or second. You don't want to say "bride" too loudly, but you want something that makes you feel beautiful. I spent so much time going back and forth on whether to order the gold mid-length strapless dress I loved that my 29-year-old son took my credit card, filled out the form and pressed the send button.
I still wasn't sure it was right and I was worried about the "strapless" part of this perfect dress, although now, having spent more than I could afford, I was stuck. Then something strange happened on plane back from New York the day our film "Bully" opened in New York. I don't usually hang out with major designers, but some of my family do, and two of them showed up that day on my brother's plane. As I was sitting across from Naeem Khan himself and his beautiful wife, Ranjana, I decided to take the risk and show him the dress. He studied it and pronounced it fitting, as did his beautiful wife, who as I found out later, rocks strapless dresses all the time. The day of my brother's wedding, (yes, the dress did appear twice that summer), Naeem actually approached me and said, "The dress looks fabulous on you, and you've accessorized it perfectly". I decided I could now die a happy woman. So, find the right one and die a happy woman.
2. BE CREATIVE IN YOUR CHOICE OF OFFICIATES -- This is also important. I'm a lapsed Episcopalian and I was married twice by the same priest. At the second one, he politely suggested that this be the last he perform. Fair enough. I was happy with the justice of the peace and two witnesses, but my mother, who thinks you aren't really legal until a priest steps in, wondered if our priest (different guy this time) couldn't just say a blessing. My husband is Jewish, not particularly religious, but he balked, and rightfully so. No priest, unless we had a rabbi too, he pronounced. As the rabbi was not available on the day chosen, and because it was starting to sound like "A Priest, A Rabbi and a duck go into a bar," a judge it was and all was well. So, consider your options -- in California, anyone can do it for $25, perhaps a ship captain, airline pilot? I do like the unusual best though. My personal favorite was a gay Wiccan wedding performed by a tarot reader wearing a vintage 1935 dress. That's absolutely true, you couldn't make that one up.
3. DON'T EVEN THINK ABOUT A DOUBLE WEDDING -- I bring this up because we had an unusual situation in our family, where my brother and I got both married within 3 weeks. Some poor unsuspecting person who knew that thought it might be a cute idea to do a double wedding. I pulled out my Blackberry, did a quick image search and showed her the other Waitt bride of 2011 -- tall, blonde, stunning, 30's and on the cover of Maxim magazine, and said, "Would you stand up next to this?"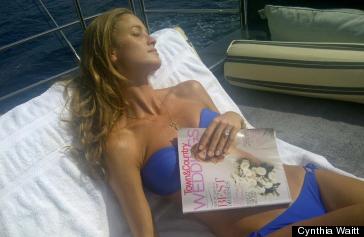 4. CONTROL THE PICTURES -- I really like my camera. It's a good one, but it tends to be somewhat soft focus (a must for older humans being photographed). I considered a pro, particularly when "Bully" director Lee Hirsch told me he would be in town on the date of my wedding. But Lee likes to film up close and personal (watch his films) and I can't hold up to that at my age. He does do a fine job of photoshopping, as he has done for me, just on his own. "C-Way, I photoshopped you in this one...."
Also, ban all other cameras. Don't you hate those people who come loaded and ready, shoot really horrendous pictures of anything and anyone, and then post them on Facebook? You don't want that kind of thing to live forever. Ban their cameras or better yet, ban them.
5. IF YOU ARE EVEN CONSIDERING SOME SORT OF COSMETIC PROCEDURE, REMEMBER....MODERATION IN ALL THINGS -- You don't want to look like what my brother calls "wind tunnel" ladies. Watch the botox! If you get too much, your eye droops. Mine did. That's why I'm standing so far back in the pictures. Overlarge sunglasses could help with a botox overload. So again, control the photography and if you need extra help, Lee could do some photoshopping. However, now that he's such a big shot, you couldn't afford him. I couldn't either.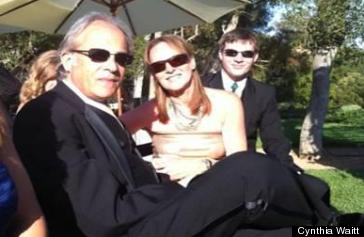 6. HAVE IT THE WAY YOU WANT IT -- Don't let anyone tell you where to get married, how to get married, or who to marry. If you are consenting adults and old enough to know what you are doing, do it, and don't worry about what the neighbors think. Remember, it's about love, and because it's about love, it's not wrong. And, in love, like most things, it's also never too late.
Add Marlo On Facebook:
Follow Marlo on Twitter:
Sign up to receive my email newsletter each week - It will keep you up-to-date on upcoming articles, Mondays with Marlo guests, videos, and more!