It's official -- "The Phantom of the Opera" is the longest-running Broadway show in history, according to the Guinness World Records.
Last night, the international record keeping service honored the record breaking musical at the Majestic Theater in New York. Andrew Lloyd Webber's musical debuted in 1986, and has been going strong ever since, with performances from New York to South Africa. In February 2012, "Phantom" reached a record 10,000 performances at the Majestic Theatre. Prior to this, "CATS" was the Broadway record-buster at the venue in 2000.
Webber told Guinness Book of World Records, "I would like to thank the performers, musicians and crew who have worked on the show over the years and the millions of fans who have come to see it. 'Phantom'...celebrates its twenty-fifth birthday next year; that makes me immensely proud."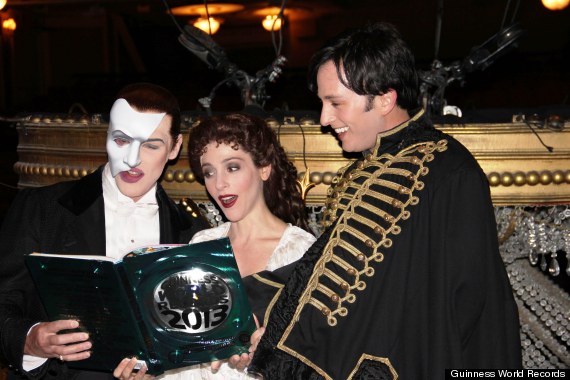 Cast members of the Andrew Lloyd Webber musical "The Phantom of the Opera" make their way into the Guinness World Records 2013 Edition as the longest-running show in the history of Broadway —musical or play—having performed over 10,000 performances at the Majestic Theatre. Photo courtesy of Guinness World Records.

BEFORE YOU GO