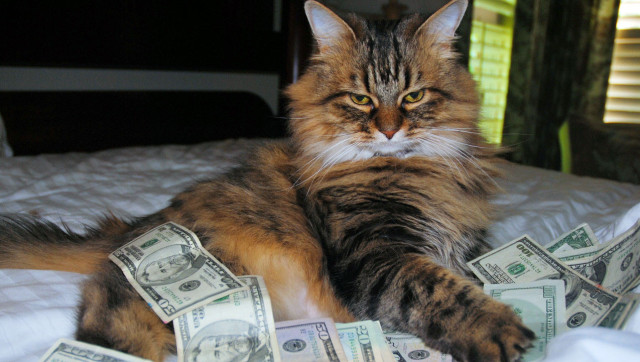 To those who think that the art world has gone to the dogs, be advised: Cats are making a run at it, and they are adorable, well-endowed and heavily armed.
The scene of the revolution? An obscure swath of Brooklynesque cyberspace called Ca$hCats.biz.
Started in 2011 by Sketchy Santa impresario Will Zweigart, the Tumbleblog was envisioned as a "VIP room" for "high net worth felines," but quickly became an incubator for peoples' ideas about wealth and power.
Scroll For Photos
User-submitted photos of "rich" cats posing with spreads of world currency eventually came to include accessories such as alcohol and firearms.
"I started to get more and more submissions that almost emulated what you might see in a hip-hop video — power signifiers like cash everywhere, champagne, guns," Zweigart told Time. "I didn't ask for any of that, but that's what people interpreted when they thought of rich cats. That's what they think of when they think of power, money and class."
And as of Sept. 6, the meme has gone offline.
The Dumbo Loft gallery now hosts the cream of Ca$h Cats-inspired art, curated from responses to a call for submissions posted in June. Co-hosted by Tumblr and Forced Meme Productions, which specializes in throwing Internet-themed art shows, the show lends a hint of authority to what many may still yet consider a highly irreverent flight of feline fancy.
(via Fark)
BEFORE YOU GO
PHOTO GALLERY
"Cash Cats"