Lana Del Rey claimed the title of British GQ's "Woman of the Year" and got naked for the cover of the risque issue.
Wearing nothing but diamond and sapphire jewelry and bright red lipstick, Del Rey poses nude for the cover of British GQ's "15th Annual Men of the Year Awards Special Issue."
The magazine has been criticized for sexism in the wake of the release. Tinie Tempah, Robbie Williams, Mad Men actor John Slattery and James Corden each appear clothed on alternate covers. Del Rey, the sole female, is the only one who appears disrobed.
"Objectification is complicated—I don't have a problem with a naked lady here and there per se, but when ALL YOUR LADIES ARE NAKED, those of us ladies with clothes on start to wonder why you even keep us around," wrote Jezebel's Lindy West. "Like, you're just going to have one lady...and she has to be naked?"
While Del Rey's nude British GQ photo shoot will surely attract viewers (and critics), her winning "Woman of the Year" has a lot more to do with her rocketing career than it does with her naked body. British GQ explains:
Having provoked equal amounts of debate and outrage throughout an incredible year, she fufills one of the key requirements for any good pop star: she gets talked about. Following the all-conquering "Video Games" and her number one debut album Born To Die, Del Rey signed to NEXT models, wrote the best song on Cheryl Cole's last album, teamed up with ASAP Rocky and has acted as a muse and model to Mulberry, Jaguar and H&M. Truly 2013 is hers for the taking.
Del Rey, born Lizzie Grant, has surely come a long way from her days growing up in Lake Placid, N.Y. At 18 years old, the self-proclaimed "gangsta Nancy Sinatra" moved to New York City to pursue her dreams, singing at open mike nights and moving into a trailer park in New Jersey, according to The Hollywood Reporter.
Del Rey opened up about her teenage life to British GQ, revealing that she was a heavy drinker at 14.
"I was a big drinker at the time. I would drink every day," she told the magazine, according to Glamour. "I would drink alone. I thought the whole concept was so f**king cool. A great deal of what I wrote on 'Born To Die' is about these wilderness years. My parents were worried, I was worried. I knew it was a problem when I liked it more than I liked doing anything else. I was like, 'I'm f--ked. I am totally f--ked'."
Her parents sent her to boarding school in hopes she would get sober. "At first it's fine and you think you have a dark side," she said. "It's exciting - and then you realise the dark side wins every time if you decide to indulge in it," she added. "It's also a completely different way of living when you know that. [You're] a different species of person. It was the worst thing that ever happened to me."
Last week, Del Rey accepted the award for "Woman of the Year" in London and discussed the provocative photo shoot, which includes a topless photo of the "Born To Die" singer with GQ creative director Paul Solomons grabbing her breast.
"We had a beautiful shoot in Monaco and I had a really interesting interview -- for a change -- and I was reminded of why I love to sing and why I wanted to become a writer," she said, according to THR.
"Also, Paul, the creative director, was very hands on with the shoot," she said, adding, "In fact, if you see inside the magazine -- in the middle of the spread -- you'll see a hand hoisting up one of my boobs," she added. "That's Paul's hand. Couldn't have done it without him."
Last month, three unreleased tracks of hers leaked online -- "Big Bad Wolf," "Playing Dangerous" and "Afraid." The leaks followed news that the sultry singer is the new spokesmodel for Jaguar, NME reported.
PHOTO: Lana Del Rey's British GQ cover. The issue is currently available on newsstands.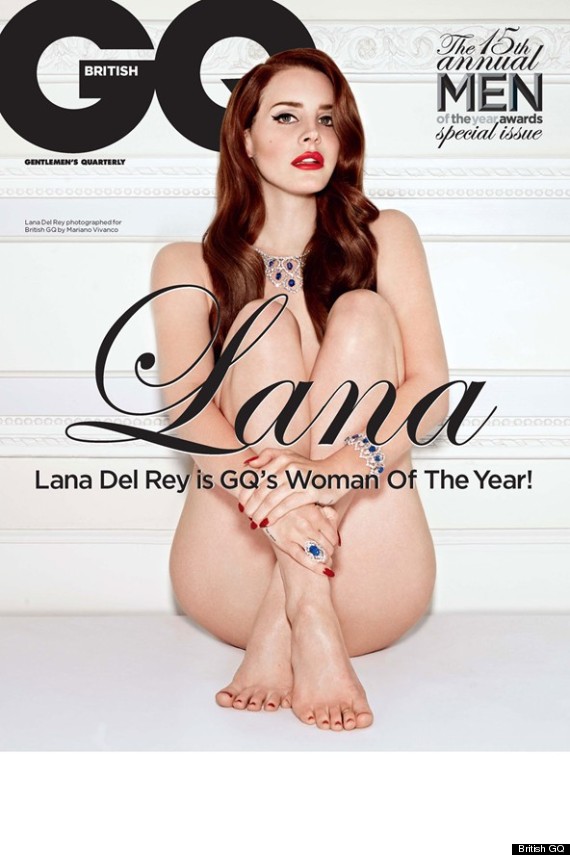 Celebrity Photos Of The Week:
PHOTO GALLERY
Celebrity News & Photos
BEFORE YOU GO