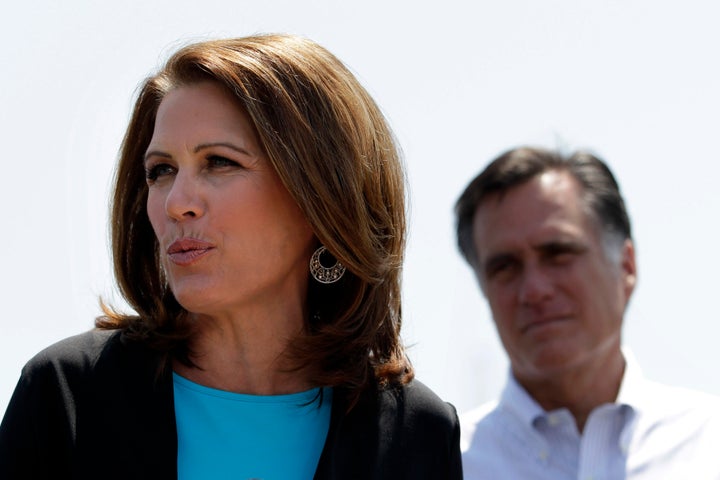 Rep. Michele Bachmann (R-Minn.) is polling within the margin of error of Democratic challenger Jim Graves, according to an internal poll from the Graves campaign.
The poll, conducted by the Democratic firm Greenberg Quinlan Rosner and first reported Monday by Salon, showed 48 percent of likely voters supporting Bachmann and 46 percent backing Graves in the race for Minnesota's 6th district. A previous GQR poll in June had Bachmann ahead by 5 points, 48 to 43 percent.
Publicly-released internal polls often show results skewed toward their sponsor by several points, largely because candidates tend to release only more favorable results.
Graves' son Adam, who manages his campaign, told Salon he was excited about the results. "The first thing that's notable is that obviously her recent comments, the stories that she's created for herself, have really hurt her among folks in the middle," he said. Bachmann attracted controversy this summer when she alleged that the Muslim Brotherhood had infiltrated the U.S. government.
"Jim Graves can buy a lot of polls from Democrat pollsters. What he can't buy is votes," Bachmann campaign manager Chase Kroll told HuffPost by email. "Minnesotans know Congresswoman Bachmann's record as a strong independent voice fighting against wasteful spending in Washington. When people learn about Graves, they'll see that he is just another big-spending liberal that we simply can't afford. Graves supports the failed stimulus, the bailouts, and Obamacare. He is no friend of the Minnesota taxpayer -- he's a rubber stamp for President Obama's agenda."
The GQR poll surveyed 401 likely voters by phone between August 29 and 30.
BEFORE YOU GO
PHOTO GALLERY
Unforgettable Bachmann Moments