In a complete role reversal from last season's textured birds-nest updos and a heavy dose of bronzer, the Rodarte girls shifted gears in favor of rigidly straight hair and soft, luminous skin -- a look they coined as "modern medieval."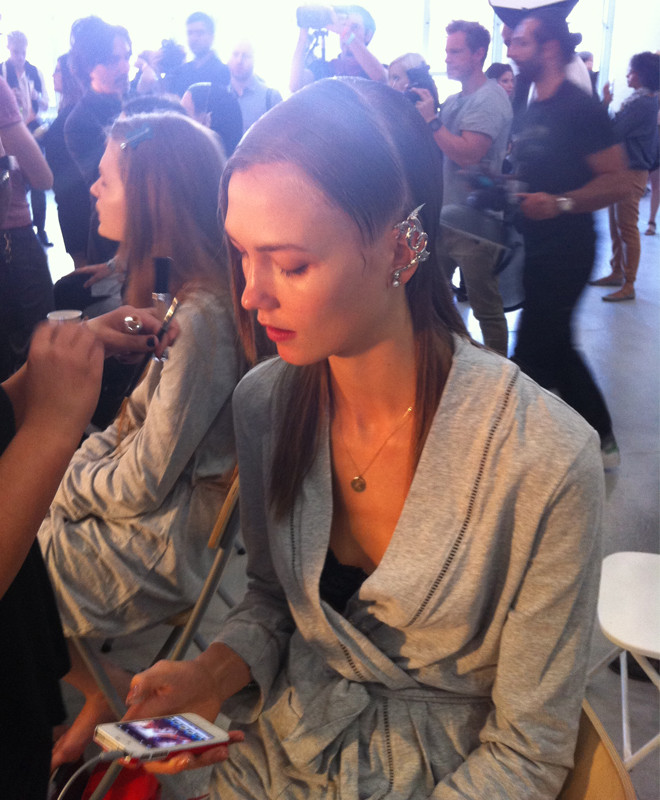 The scene backstage: Karlie Kloss killing time on Instagram.
Makeup: NARS lead makeup artist James Kaliardos created the glowing look by prepping the models' skin with the brand's brightening concentrate and eye cream before applying a light smattering of foundation and concealer. For the soft eye, he applied NARS Himalayas, a "pale eyeshadow that has this reddish pinky reflect in it," he explained. As far as placement, "we're doing it in the inner corner, and the cupid's bow." Though Kaliardos skipped mascara, he really put emphasis on curled eyelashes. To complete the luminous effect, he applied Triple X lip gloss, putting it over the entire eyelid and the top of the lip. "The clothes are very strong, the clothes are quite Dungeons & Dragons-inspired," he said. "The hair is a hard swoosh, we really wanted something simple and modern and beautiful [on the face], but that had some sort of catch to the eye. And I really love a gloss on the eye. I mean Jean Harlow did it, it's not like it's a brand new thing. It's really sexy." The result? "Very reflective and minimal."
Hair: While Kaliardos referenced a swoosh, we were seeing a pretty glamorous combover. The look, created by Kerastase lead stylist and backstage miracle-worker Odile Gilbert, was decidedly more severe than the soft barely-there makeup. "Very graphic, very modern, very straight hair," Gilbert explained. She achieved the look by working in Kerastase Fibre Architect, then combing the models' hair over to one side. The sleek finish was thanks to Elixir Ultime The Imperial. Gilbert described it as "almost glued to the head, like if they were shaved." Smiling, she added, "It's sort of my favorite."
When asked about that wild, spiky earring cuff, and if the slicked-over look was an effort to showcase the jewelry, she quickly shut down that idea. "No," she confirmed. "It's an accessory."
Nails: The mauve-y, woven look was a blend of CND Nail Polish in Desert Suede, Frosted Cream and Chocolate Milk. Thin strips were painted then woven together with tweezers, and finally placed on press-on nails. Each nail took about 15 minutes each, so, for obvious reasons, those weren't created the day of.
Want more? Be sure to check out Stylelist on Twitter, Facebook, Tumblr and Pinterest.