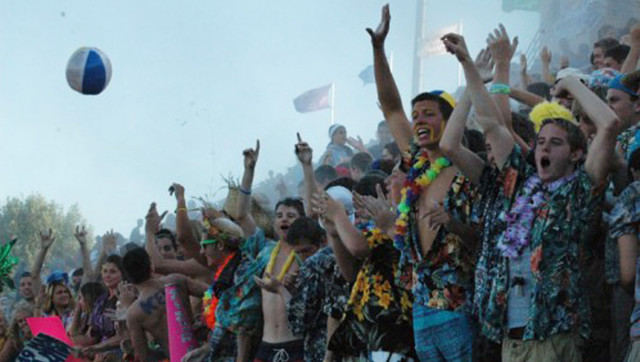 Citing health concerns, Carmel High School administrators are putting an end to a student tradition of spraying baby powder in the student section of the bleachers before the start of every home football game, the Indianapolis Star reports.
Instead, the administration handed out thousands of confetti paper poppers prior to last Friday's game between defending state champion Carmel and Terre Haute South. They are hoping to phase out the baby powder showers in favor of the less hazardous confetti.
"Have you ever sat next to that? It's a really irritating thing that gets in people's eyes," Athletic Director Jim told The Star.
According to the school's student newspaper, the HiLite, principal John Williams said that members of the football team had complained about the baby powder obstructing their vision and making it difficult to breathe. Williams also cited the powder's ability to provoke allergies and jeopardize bleacher footing.
The HiLite reports that Williams approached the school's student body president about finding a suitable replacement for the powder, which is how the idea for confetti poppers came about.
Since the phase-out initiative is still in progress, administrators say for the time being, students will not be punished for bringing baby powder, but are hopeful they will take a cue from their peers and make the switch to confetti.
According to Yahoo! Sports' Prep Rally blog, other schools have taken to imitating Carmel's baby powder spray and incorporating it in chants for much-hyped games.
BEFORE YOU GO
PHOTO GALLERY
Weird Things Banned At Schools