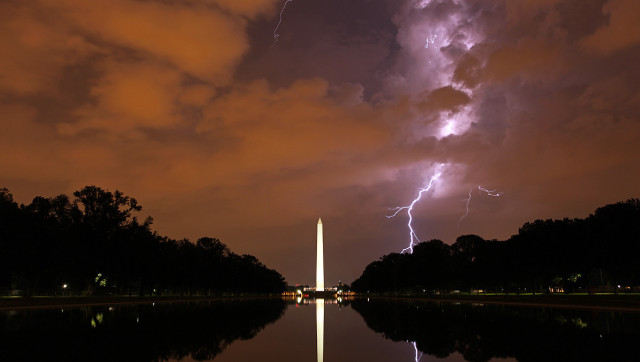 WASHINGTON -- Nasty weather isn't usually something to look forward to, especially this week as the nation's capital experiences a beautiful stretch of temperate, blue-sky days. But thanks to photographer Ian Livingston, the D.C. area's dramatic weather events are at least pretty.
Livingston, a contributor to The Washington Post's Capital Weather Gang, took early September's amazing lightning photos near the Lincoln Memorial and the newly rebuilt and refilled Reflecting Pool. (Here's the Post's original piece on Livingston's storm photos.)
He's also documented 2010's "Snowmageddon," tornadoes across the country and plenty of less severe moments, like a double rainbow appearing over the nation's capital.
HuffPost DC caught up with Livingston to find out how he got those great shots, how he keeps his camera dry and if he's ever gotten too close to something dangerous.
The Huffington Post: Who are you and what do you do in D.C.? Are you a full-time photographer?
Ian Livingston: My name is Ian Livingston, I've been a D.C. resident since 2006. I am not a full-time photographer -- though in a perfect world I might be! I am a contributor to The Washington Post's Capital Weather Gang. I'll also occasionally go out to photograph randomly, particularly during spring and fall, as I love the change of seasons. I came to D.C. to pursue my interest in foreign affairs. I have worked at The Brookings Institution since 2006 doing just that.
Story continues below...
PHOTO GALLERY
Ian Livingston's Amazing Weather Photographs
HuffPost: Why do you take so many photos of weather?
Livingston: My passion for all things weather started before really delving into photography. Over time, the two began to mesh more strongly with each other. Part of it was so I could document what I'd seen. But, weather -- particularly severe weather -- is often rather beautiful.
I'm not a very religious person, though when people ask why I'd take a few weeks off in the spring to drive around the Plains looking for bad weather, I tell them it's almost a spiritual experience to stand on that flat land and watch monstrous storms roam. I'm also a big fan of heavy snow and how it transforms the world it falls on. The record snowiest winter of 2009-10 in D.C. was almost like a dream.
HuffPost: What else do you take pictures of?
Livingston: Before I moved to D.C., I did a lot of landscape photography. There aren't many open vistas or secluded areas in the city for pure landscape work. Yet, Washington is like an urban botanical garden intermixed with historical and architecturally compelling buildings. Lots of great subjects. Then there's the Potomac plus Rock Creek Park, just to name a few spots.
For whatever reason, I've never been that into photographing people, which might be partly why I've not strongly considered trying to make a career of it. It's all very nature driven. I don't ever seem to get enough time outdoors, but I always cherish every minute.
HuffPost: How did you capture the incredible lightning shots at the beginning of September?
Livingston: I actually went to the National Mall to check out the refurbished Reflecting Pool. My hopes for a good sunset were hampered by thick clouds and developing storms. Honestly, I might have missed it entirely if I was not already out, given that the activity formed right near D.C. without the typical lead time when storms arrive from elsewhere.
Watching the sky percolate, I started snapping shots at various locations. A second round of storms pushed me into the Lincoln Memorial to take shelter from the rain. Once the rain tapered, I wandered out and noticed lighting was pretty frequent to the south. I took a chance, and framed the Lincoln with a nice open space for lightning to fill. From there, it was a click of the remote shutter release, a few second exposure, and fingers crossed. The Lincoln shot was actually the first of three I took with that framing, and only one didn't capture anything but the memorial. Once I saw the camera display, I knew it was a winner.
HuffPost: Have you ever found yourself in a hairy situation, while shooting a storm?
Livingston: In some ways I have more weather knowledge than photography knowledge. As such, even being near or under severe storms, I've not run into many truly hairy situations. However, it's an "occupational hazard" and bound to happen if you're at it long enough. Two days stand out:
In 2011, my friends and I were out searching for tornadoes in the Plains. We got on a storm that produced a tornado after sunset. Even though it's not terribly wise to chase in the dark, because you can't see anything, we did. We were in rural South Dakota -- pitch black, only a scattered farmhouse light flickering on the horizon -- and almost ran into the tornado. Fortunately, we realized what was happening before it was a problem and turned around.
Perhaps my scariest storm experience was in D.C. When the major severe thunderstorm event -- known as a derecho -- hit the area in late June 2012, I was out with veteran storm photographer Kevin Ambrose. We knew what was coming, but didn't move fast enough. The storm hit us with 70 mph winds and blinding rain, all while we were still out in the open and near a bunch of trees. There was definitely a moment when I wondered if we'd be seriously injured or worse. It shook me up, and we both suffered some equipment losses while getting soaked during the event.
HuffPost: Where are the best places to take weather photos in the D.C. area? What's the best place in the D.C. area to take photos generally?
Livingston: The National Mall or Tidal Basin are about as good as you're going to get when it comes to wide-open views, not to mention the bonus of iconic locations. On top of a multi-story building also works nicely, given the low skyline of the city. The banks of the Potomac, and elevated areas like the Netherlands Carillon or Arlington Cemetery in Virginia are other favorites.
In a lot of cases, I like shooting weather -- or general photography -- in the neighborhoods and side streets. The Mall and other major attractions are awesome, but there are so many cameras at those spots seemingly all the time. I try to avoid photographs that have already been taken a lot. That brings up another bonus of taking photos in the weather, it's always different and changes the scene up.
I've chased storms outside the city a few times, including quite recently, though since I don't have a car it's not too common. A lot of the area has difficult views given the trees plus the hills and mountains to the west. Valleys might be preferred, though sky access generally get better toward the coast, and hills can add to a photo. If you're really looking for a big glimpse of the sky, and know how a storm is evolving, you can usually find it, especially with smart phone and GPS assistance. If just wandering about or road tripping, great photos can be found all around.
HuffPost: What kind of equipment do you use? Do you use a waterproof camera?
Livingston: I'm currently using a Canon EOS 5D Mark II DSLR, my third Canon DSLR. It is sealed, and advertised as weatherproof, though I generally try not to test it in heavy rain. During the June 2012 derecho, when I was caught outside in the storm, it was totally soaked under several minutes of heavy rain. I thought it may end up destroyed. Fortunately, that was not the case. I'd have to give it pretty high marks for standing up to the weather, but I'd rather not let it get that wet again!
Besides the camera, I use a 17-40mm Canon wide-angle lens (the lightning photos were done with it) and a 28-300mm lens most of the time. A few other lenses mainly sit in my bag.
BEFORE YOU GO