Happy iPhone Day! At 1 p.m. ET (10 a.m. PT), Apple will finally take the sheet of the "iPhone 5," or whatever it'll be called -- or so we've heard. Right now Tim Cook is surely powdering his nose and donning his black shirt for his big presentation. But he isn't the only one at Apple preparing.
We woke this morning to the following message from the Apple Store, the main landing webpage where Apple peddles its latest wares: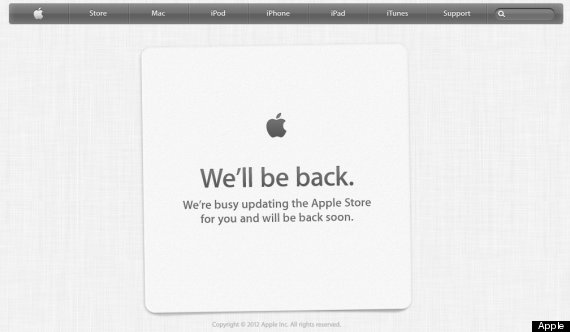 Busy updating for what, pray tell?
This "We'll Be Back" message (in multiple languages) usually crops up ahead of most big Apple announcements, like Wednesday's when the next-gen Apple smartphone is widely expected to be launched. (Note: All of the links in the bar above the "We'll Be Back" sign are functioning fine, including the one for the iPhone.)
While we're sure there's plenty of new coding that goes into making the new page, the under-construction sign conveniently stokes more excitement from an already excited fanbase.
For more on our pre-iPhone event coverage, have a look at our roundups of everything we expect Apple to unveil today and how to follow the announcements live. You can view all our coverage of Apple's iPhone event on our big news page.
BEFORE YOU GO
PHOTO GALLERY
Apple's Futuristic Cupertino Campus