Thanks to a new gene therapy treatment, young siblings from Arizona have become among the first few people to be cured of severe combined immune deficiency syndrome (SCID), commonly known as "the bubble boy disease."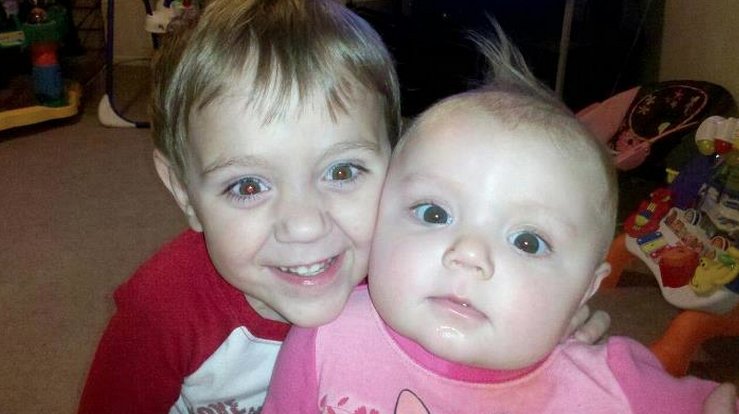 (Photo credit: Facebook/Jessica Ainslie)
According to Fox News, Colton Ainslie, 5, and his baby sister, Abbygail, are now leading normal and healthy lives after undergoing the experimental therapy. Both siblings were born with a type of SCID, a rare genetic disease that can severely impair a person's immune system and sometimes lead to death.
Abby and Colton both had a type called SCID-ADA, which account for about 15 percent of SCID cases. Their bodies produce a faulty version of an enzyme called adenosine deaminase or ADA. Without it, immune cells die. Most patients die by the time they are about 2 from some infection, because their immune systems just can't fight off germs.
Also known as the "bubble boy disease" -- after the case of young David Vetter, whose isolated life in a sterile, plastic ward inspired films like the "The Boy in the Plastic Bubble" and "Bubble Boy" -- SCID is said to affect about one out of every 100,000 newborns, according to the report.
However, until recently, treatment options for SCID victims have been mostly limited to rare bone marrow transplantations or frequent and expensive drug injections that are needed for the child's entire life, the website My Health News Daily notes.
When Colton -- who was born prematurely at 26 weeks -- was diagnosed with the disease, his mother, Jessica Ainslie, said she was horrified at the options that were available to her son.
Fortunately, however, the mother, who lives in Peoria, Ariz., didn't have to worry long.
According to Fox News, Colton was air-evacuated to Los Angeles where he met Dr. Donald Kohn, one of the leading doctors in ADA-deficient SCID who has spent more than a decade collaborating with a group of researchers in the creation and testing of a new gene therapy "capable of restoring immune systems in children" with Colton's disease.
The young boy, then just a toddler, was soon enrolled in a clinical trial at the University of California in Los Angeles, in which he was given a low dose of chemotherapy before being given gene therapy. After treatment, a few children given both chemotherapy and gene therapy during the trial had their immune systems restored.
One of those children was Colton.
"Gene therapy holds hope for a better treatment -- it's safer and more cost-effective," Kohn said, according to My Health News Daily. He added that the handful of other children with SCID who have received this gene therapy treatment have seen similar results.
Colton's sister, Abbygail, who was also born with the disease, is another of Kohn's success stories.
In addition to gene therapy, Abbygail, now 14 months, was given a larger dose of chemotherapy than Colton. TODAY.com notes the child seems to have reacted to the treatment even better than Colton, perhaps because she was just an infant when she underwent therapy.
"She's walking and talking and has a little attitude," Ainslie told Fox News. "She's just a normal baby; you wouldn't know she's sick."
And while Colton will likely need some treatments for the rest of his life -- including monthly injections -- Abbygail will probably not need lifelong treatment.
"This is the first time this disease is cured in the U.S.," one of Kohn's collaborators, Dr. Fabio Candotti at the National Institute of Health Candotti, told TODAY.com of the breakthrough treatment.
However, Candotti warned that Colton and his sister are "rare and lucky children."
"It is not ready for prime time in the sense that it is not available in all centers," he said, adding that the gene therapy would be expensive, likely costing around $200,000 for treatment.
Clarification: This article has been amended for clarity. While Colton Ainslie met Dr. Donald Kohn at the Children's Hospital Los Angeles, the gene therapy study was conducted at UCLA.
BEFORE YOU GO