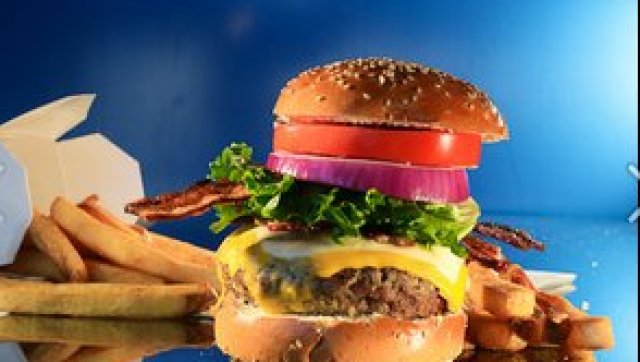 WASHINGTON -- In honor of the upcoming National Cheeseburger Day, D.C.-based burger chain BGR: The Burger Joint -- last seen bringing us the controversial Snooki burger -- has announced it will award a cash prize to the person who can eat the most cheeseburger sliders in 10 minutes.
The contest will be held at noon on Sept. 18 at BGR's outpost at 4827 Fairmont Ave. in Bethesda, Md.
BGR spokesman Kenny Fried told The Huffington Post that 10 competitors have already been selected. The eaters are mostly local to the D.C. area and the group includes two women
They've all got a shot at winning, too, since the D.C. area's competitive eating superstar Sonya Thomas, the Black Widow will not be taking part.
Here's what they're eating for: Top prize is $500 plus the chance to compete against other regional winners in the national burger-eating finals, to be held in May on the day of bovine mourning, National Hamburger Day. Second prize may not be welcome right after completing the contest -- it's a $250 gift card to BGR. The third place winner will receive a $100 BGR gift card.
Observers who have the stomach for it will be fed samples from the BGR menu.
One recent slider-eating contest was won by someone who ate 12 sliders in 1.5 minutes. A Baltimore contest was won by a hungry competitor who ate 23 hamburgers in 10 minutes.
Hungry?
Photos from a different gluttonous event -- this summer's Fourth of July hot dog-eating contest at Coney Island:
PHOTO GALLERY
Nathan's Hot Dog Eating Contest 2012
BEFORE YOU GO