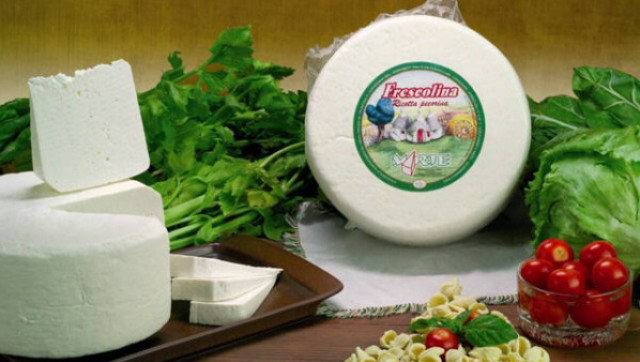 The CDC announced Tuesday night that fourteen total hospitalizations and three deaths across America have been linked to listeria-tainted cheese imported from Italy. Frescolina brand Ricotta Salata was voluntarily recalled by Queens-based Forever Cheese Inc. after reports of a possible Listeria Monocytogenes contamination.
According to Food Safety News, a "consumer friendly" distribution list of restaurants and stores that received the cheese has still not been released, but we do know that the cheese was sold in the following states: California, Colorado, District of Columbia, Florida, Georgia, Illinois, Indiana, Maine, Maryland, Massachusetts, Montana, New Jersey, New Mexico, New York, Ohio, Oregon, Pennsylvania, Virginia and Washington between June 20, 2012 and August 9, 2012.
Customers who may have purchased Frescolina Ricotta Salata are urged to throw away any remaining portions. "When in doubt, throw it out," says the CDC. Listeria infections are particularly dangerous for pregnant women, young children, the elderly and anyone else with a weakened immune system. Symptoms of a listeriosis infection can include fever, muscle aches, diarrhea and other stomach issues.
BEFORE YOU GO
PHOTO GALLERY
Kinds Of Food Poisoning You Should Know About (And Avoid)