Hey, weren't we done with the whole glamorization of domestic violence trend?
Stephanie Seymour, an icon of the early '90s supermodel heyday, strikes a rather awkward looking pose on the fall-winter cover of Vogue Hommes International. Clad in a classic white blouse and high-waisted skirt, Seymour leans up against male model Marlon Teixeira... while he wraps his right hand around her neck.
Teixeira's facial expression and the placement of his left hand on Seymour's chest seems to express feelings of lust and desire rather than violent anger. But the image of Stephanie's helpless face resting in Teixeira's grip is too arresting -- and too rife with alternative explanations --to simply ignore.
Terry Richardson lensed the cover shoot, which should come as a surprise to approximately no one. Richardson loves pushing boundaries with his subjects, or rather coaxing his subjects into pushing boundaries themselves.
That isn't to say Richardson intended any unfortunate domestic violence overtones, but similar fashion shoots have certainly happened before. Last fall, photographer Tyler Shields photographed Heather Morris tied up with an iron cord and sporting a black eye. (After widespread outrage, Shields promised to auction off the photos and donate the proceeds to "a top domestic violence charity.")
A few months later, teen model Hailey Clauson was photographed being choked in a fashion shoot for Pop. And this past June, a Bulgarian mag called 12 made over several models to look violently injured, using makeup to create shockingly realistic slit throats, bloody slit cheek, black eyes and acid burns.
Does Seymour's latest cover go as far? Not nearly. But we can't help but be somewhat uncomfortable with the chokehold pose.
See the photo below. Does it strike you as problematic?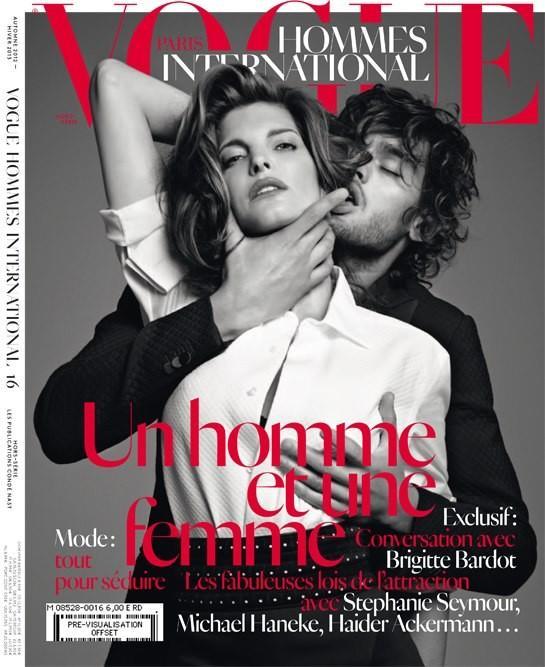 See more controversial magazine covers:
PHOTO GALLERY
Magazine Covers That Got People Talking
Want more? Be sure to check out HuffPost Style on Twitter, Facebook, Tumblr and Pinterest.