When it comes to hair color, specifically of the brighter varieties (pinks, blues, purples), we tend to see it as an accent on the ends of the hair, but this season Anna Sui flipped the notion literally on its head.
Hair: Instead of ombre'd streaks, models wore bright hair pieces right on the top of their head; the fake hair along with their natural hair was then gathered into a ponytail, creating a two-toned effect. "The inspiration is Anna, of course," explained lead hairstylist Garren. "The colors this season are dusty rose, pale, washed-out blues and greys, pinks and lavenders. We decided to add that to the hair. There's a color in the outfit that matches the color in the hair, and when you see the backdrop and everything going together, it will all make sense. It sort of made it punk-y in a modern way. We decided to incorporate that with their own hair. What if someone wanted to have fun, they could just bleach the front of their hair a little bit and make it a color. We've seen them do the streaks of color, we've seen them do the tracks of color, we've seen color on the ends, but why not do it smack dab in the front? And if you don't want to take that route with the hair color, you can always buy a piece and do that. And it can be done with longer hair, where it can all be woven in."
Makeup: Beauty genius Pat McGrath was calmly holding court backstage when we arrived at the tents at Lincoln Center. When asked about the wild, matchy-matchy eye makeup and hair, Pat explained: "Garren's done purple, pink and blue wigs, we've done red and blue eyes." She continued, "Anna took some photos from back in the day when she would go to punk concerts and watch The Sex Pistols. You'll understand the background, very red and blue. So we've taken the shades from that, we've got the girls with the pink and purple wigs in red [eye makeup], and the girls in blue wigs in blue eyes. So very colorful, a lot of lines," she said, referencing the graphic eyeliner. "Very eccentric and very fun." The look was created with CoverGirl & Olay Tone Rehab Foundation, Liquiline Blast Eyeliner, Nature Luxe Gloss Balm on the lips, and generous coats of CoverGirl LashBlast Mascara. The bright blue and red on the eyes was theatrical paint.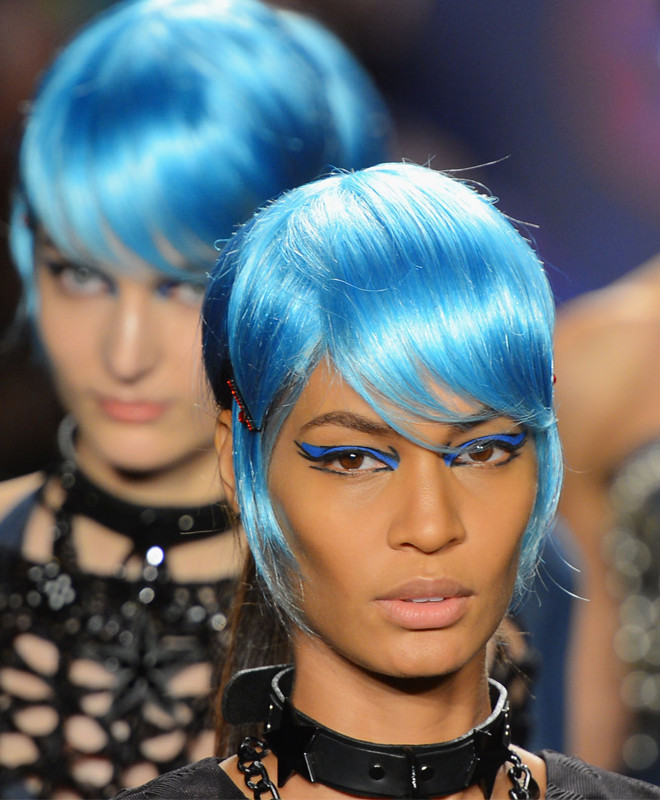 Getty
See all of our New York Fashion Week coverage here.
Want more? Be sure to check out Stylelist on Twitter, Facebook, Tumblr and Pinterest.
BEFORE YOU GO