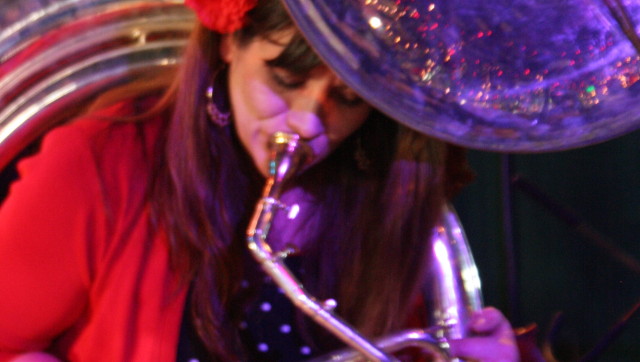 TOP 5 FOR THURSDAY, SEPTEMBER 13
1. DeVotchKa At Sixth And I
The indie rock, world music enthusiast band has been going at it for more than 10 years, slowly building a loyal fan base. Scoring the 2006 Oscar winner "Little Miss Sunshine" didn't hurt the building. Their newest record, 2011's "100 Lovers," will please fans of Neutral Milk Hotel and Vampire Weekend. 8 p.m., all ages, $35
2. Craft Futures Handi-hour At Renwick Gallery
An evening out is better when you're making something with your hands. 5:30 p.m., 21+, $20
3. Parks & Passages At Goethe Institute
This summer, Provisions Library sent an interdisciplinary team of Washington-based artists and researchers to Berlin to study urban transformation in repurposed places. Wonder what else is a potential repurposed space? The Dupont Underground. Cool things are below the surface. 9 a.m. to 5 p.m., all ages, no cover
4. One Hour Magazine At Above The Bike Shop
One Hour Magazine is a PDF magazine. They're asking any and everyone to stop by the space above the bike shop in Adams Morgan to come hang out, listen to music, eat food and work on one page of collage for the magazine. Welcome back to grade school art class. 6 p.m., all ages, no cover
5. "The Dark Crystal" At Phillips Collection
Not all Muppets are friendly.
Did you know the Phillips has an '80s film series? 6:30 p.m., all ages, suggested donation
TOP 5 FOR THE NEXT 5 DAYS
Friday, September 14
Special Agent Galactica at Black Fox Lounge
Start your weekend at a no cover happy-hour with a D.C. drag queen who embraces rock and roll.
Saturday, September 15
TJ Miller at Arlington Drafthouse
The manic, seemingly in every comedy film actor is a stand up vet. His first Comedy Central was recorded last year. To make things a little more interesting he also released a hip-hop album. Why? Why not?
Sunday, September 16
Speed Book Dating at Shirlington Branch Library
This is a simple and good idea. Single and want to meet a reader?
Monday, September 17
DC Fashion Week Eco Fashion Show at International Finance Corporations
"What are you doing tonight?"
"I'm going to the International Finance Corporations at the corner of K and Penn."
"Why?"
"Fashion show."
Tuesday, September 18
Big K.R.I.T. at Howard Theatre
The next time K.R.I.T. will be in D.C. will be at a much larger venue.
BEFORE YOU GO