Two paintings by the father of modern Egyptian painting, Mahmoud Said, are poised to lead Christie's Modern and Contemporary Arab, Iranian, and Turkish Art sale in Dubai this fall. Titled "El Zar" and "Pecheurs a Rosette," the works are making their auction debut, expected to fetch up to $200,000 and $600,000 respectively.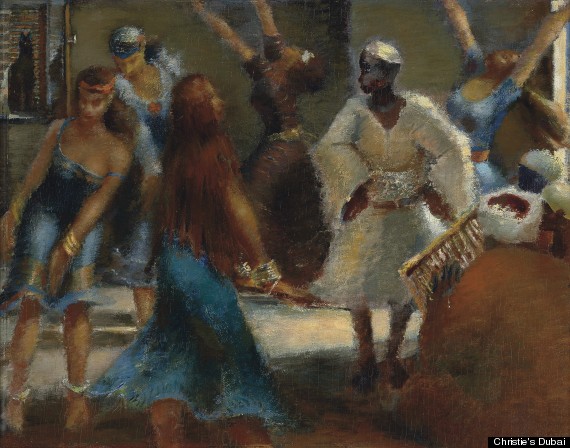 "El Zar," Mahmoud Said, 1939
Said, also known as "Alexandria's paintbrush," is one of Egypt's most iconic painters, whose images of dancers, dervishes and nudes propelled him to the front of the modern art movement his his country. Working in the early to mid-20th century, he focused primarily on genre paintings, landscapes and portraits, many of which depicted themes of traditional Egyptian culture and his hometown of Alexandria.
Though Said's works are officially estimated to fetch well under $1 million, some in the art world are speculating that the paintings will attract much higher price tags. "His works have everything that it takes for them to sell at much higher prices than the ones they fetch," Hala Khayat, Specialist on Middle Eastern Art at Christie's, told the English-language news site Ahram Online. "The Middle East is an emerging art market and there is international interest in both modern and contemporary Middle Eastern art. In the case of Mahmoud Said, the demand is there, but you can rarely find his paintings for sale. Supply is very limited and eventually it will dry up."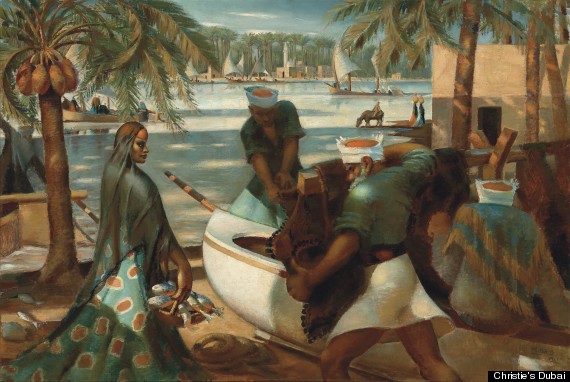 "Pecheurs a Rosette," Mahmoud Said, 1941.
The two paintings set for auction at Christie's Dubai this October reflect the sincere adoration Said felt for his heritage. "Pecheurs a Rosette," estimated to sell between $400,000 and $600,000, shows a scene of swarthy fisherman unloading their catch on the banks of the Nile. Packed with images of strength and fertility rendered in vibrant golds and blues, the composition perfectly captures a brief moment representative of Egypt's storied past. "El Zar" also gives attention to the indigenous customs of the country, showing a scene of female figures dancing in a trance as part of a religious ritual performed to exorcise spirits. Painted with clouded brushstrokes reminiscent of Flemish painters like Peter Paul Reubens, the work is an example of Said's fascination with the plurality of spiritual beliefs in the region.
Said's work has certainly defied auction expectations before. The artist shocked auction audiences in 2010 when one of his most famous paintings, "The Whirling Dervishes," sold for $2.5 million at Christie's Dubai. With a previously estimated price tag of no more than $400,000, the sale set the world auction record for the artist, beating out the $2.4 million cost of his "Les Chadoufs" earlier that year. It also became the highest selling piece of art by any Arab artist at auction.
According to a promotional video on Christie's website, the international demand for works by Arab, Turkish and Iranian artists is on the rise. When Christie's first opened its auction services in 2006, it reported that over 90% of the works being sold were going to collectors in the region. But that number has drastically changed since, and now over 50 percent of the art is being bought by collectors in Asia, Europe and America. In total, the Dubai auction house has sold over 2,500 pieces of Middle Eastern art for a total of $220 million.
Antonia Carver, director of Art Dubai, a fair that showcases art from the Middle East, North Africa and South Asia, stated to Reuters earlier this summer that she too has seen increased interest in the Dubai art scene. "The recognition of Arab and Iranian artists by the global market has been absolutely phenomenal," she said. "I don't think anyone in the art market here is hoping for a big boom. They're hoping for a steady growth and I can say we're in a much better position than before."
Christie's auction of Modern and Contemporary Arab, Iranian and Turkish Art takes place at the Jumeirah Emirates Towers Hotel on October 23 and 24, 2012.
Let us know what you think of Said's auction potential in the comments section. For more sticker shock, check out this slideshow of the costliest works of art (with prices adjusted for inflation).
PHOTO GALLERY
The Most Expensive Art Ever Sold At An Auction In 2012 Dollars
BEFORE YOU GO