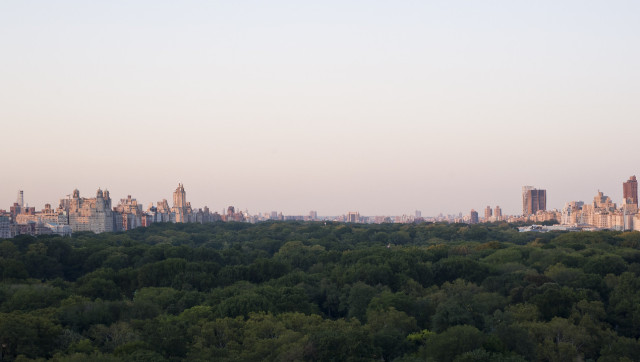 Many consider Billy Joel to be a quintessential New York music icon, so it isn't surprising that he lived and worked for many years in one of the most prestigious and one-of-a-kind Manhattan properties: the penthouse at 128 Central Park South. And, lucky us, we were invited by Trulia to visit this fabulous home that's currently on the market by its most recent owners for just under $12 million. The two level duplex with two bedrooms, a private gym, 2.5 bathrooms, 3 fireplaces and the rarest views of the city from its wrap-around terrace is no stranger to celebrities. Before Joel and his supermodel ex-wife Christie Brinkley owned the place, it had also been home to Ted Turner. And once you've seen the sights from this uptown residence, you'll realize why we had to share this house tour.
Thanks to the current owners, the entire home is donned in clean-lined earth-toned furnishings with an Asian influence, beautiful dark wood floors and simple but elegant sliding screens partition off the rooms. But Joel left his mark on the home as well -- by commissioning a sunken living room that's fully insulated, so he could play his piano and jam with his band without disturbing neighbors. And the master bedroom floor is raised so while reclining you're eye-level with the entire expanse of Central Park visible through the soaring windows. You can also take in the view from the master's fantastic soaking tub or the shower, which has an intricate koi fish mosaic floor.
But the most notable feature of the home is definitely the two-story, impeccably landscaped terrace with a moss-covered and cobblestone path. With ample seating, lush greenery, a serene water feature and an amazing outdoor sound system there are few better places in New York City to watch the seasons change. Click through our slideshow below too see images of this amazing property.