Politicians be forewarned! Remember to renew your website's domain name on time, otherwise you may fall victim to URL thieves.
Puerto Rican Governor Luis Fortuño is learning that lesson this week after his website, LuisFortuno.com, expired and his opponents, the Popular Democratic Party (PPD), swooped in and snatched up the name.
As Latino Rebels reports, the Republican incumbent used LuisFortuno.com for his 2008 gubernatorial campaign, however the website appears to have changed hands this week and is now sponsored by the PPD (as seen at the bottom of the site). The home page, which features a photo of Fortuno with arms crossed above the message "Hazme Tus Preguntas" or "Ask Me Your Questions," opens with an incendiary video that slams Fortuno.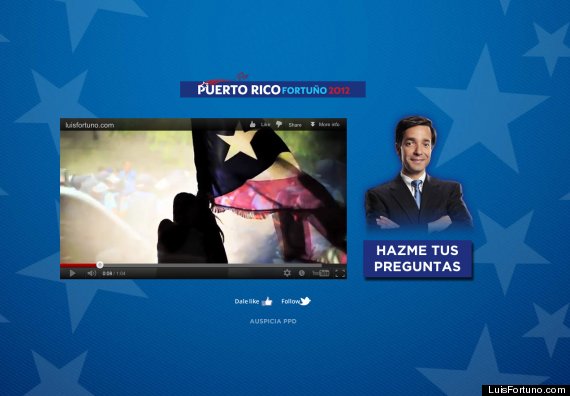 PPD, also known as the Populares, added insult to Fortuno's injury, posting a photo of the receipt for the purchased domain name on the party's official Twitter account. The cost? $12.17 for the domain name and $6.99 for private registration services -- even though the PPD is certainly not holding anything back in its claims of ownership.
Former Puerto Rican governor Anibal Acevedo Vila, a member of PPD, responded to the party's takeover of LuisFortuno.com in a tweet, writing: "Not renewing luisfortuno.com, when LF used it in his campaigns in 04-08 is the best example of incompetence. Failed campaign and government!"
No re-comprar luisfortuno.com, cuando LF lo uso en sus campañas 04-08 es mayor muestra de incompetencia. Campaña y gobierno colapsados!

— anibalacevedo (@anibalacevedo) September 11, 2012
While it appears Fortuño allowed the domain name to expire, trading in LuisFortuno.com for PorPuertoRico2012.com, the domain name may have changed hands as early as October 2011, according to data from GoDaddy.com.
Why Fortuno's opponents chose to wait until this time to announce their take over is anyone's guess, but the Sept. 10 launch -- on the eve of Fortuno's first debate -- was likely a strategic move.
Watch the main video below and click over to the website to see the other videos the PPD posted.
BEFORE YOU GO
PHOTO GALLERY
Luis Fortuño