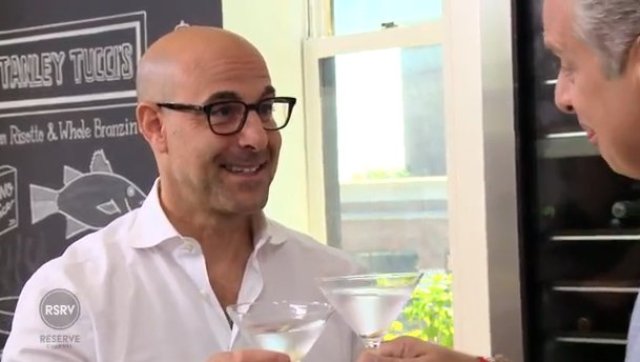 Somehow Eric Ripert made it this far without drinking a martini? We find this incredibly difficult to believe, but alas, that is what he tells his guest, Stanley Tucci, on the latest episode of "On The Table." While we may have some personal reservations about Tucci's aversion to vermouth, we are still glad he got Ripert to finally drink one.
We weren't really sure what to expect when we heard that Stanley was Eric's next guest. You might know him from "The Hunger Games," but we know and love him best as the director, writer and star of "Big Night" -- which we regard as probably one of the best cooking movies of all time. Tucci turns out to be a few very surprising things: 1) a bit of an instigator in the drinking department (which we like), 2) a pretty solid food nerd, with some legit cooking chops and 3) incredibly tender, and able to articulate some of the reasons we love food better than we've been able to so far.
Tucci confesses to almost wanting to cry at the end of every episode of Julia Child's "The French Chef," and also tells a beautiful story about how sharing a moderately good bottle of wine with his late wife made it taste like the best bottle of wine on earth.
Don't worry, we haven't turned into total saps -- there are also f-bombs and pre-noon hard liquor consumption.
Check out the episode (and Stanley Tucci's risotto and branzino recipe) below:
Stanley Tucci's Lemon Risotto with Whole Roasted Branzino
Lemon Risotto:
2 tablespoons extra-virgin olive oil, plus additional for serving
1 large shallot, finely chopped
1 ½ cups Vialone Nano rice
½ cup dry white wine
5 cups hot homemade chicken stock or low-sodium store-bought broth
2 tablespoons unsalted butter
1 cup grated Parmigiano-Reggiano cheese
2 tablespoons fresh lemon juice
Zest of 1 large lemon, plus additional for garnishing
Chopped fresh flat-leaf parsley
Fine sea salt and freshly ground black pepper
In a large skillet, heat olive oil over medium heat. Add shallots and cook, stirring, until translucent, 4-5 minutes. Add rice and cook, stirring, until fragrant, about 2 minutes.
Add wine, and using a wooden spoon, scrape any browned bits off the bottom of the pan. Continue stirring until wine is absorbed. Using a ladle, add ½ cup hot chicken stock at a time and stir continuously until mostly absorbed. Continue adding stock until the rice is "al dente" but not crunchy, about 20 minutes (you may want to add less than ½ cup stock at a time as rice nears doneness).
Stir in butter, until completely melted. Remove from heat and stir in cheese. Stir in lemon juice and zest. Drizzle with olive oil. Garnish with chopped parsley and remaining zest. Season with salt and pepper and serve immediately.
Whole Roasted Branzino:
1 (1 ½ pound) whole branzino, cleaned, gutted, and scales removed
Fine sea salt
6 cloves garlic, peeled and crushed
2 lemons, thinly sliced, plus additional for serving
2 sprigs fresh rosemary
2 sprigs fresh thyme
2 sprigs fresh flat-leaf parsley
3 tablespoons extra-virgin olive oil, plus additional for serving
20 cherry tomatoes
¾ cup dry white wine
Preheat oven to 500˚F. Season both sides and the cavity of fish with salt. Arrange the 3 cloves garlic, lemon slices, rosemary, thyme, and parsley inside cavity.
In a large roasting pan, add olive oil. Transfer fish to pan. Toss in cherry tomatoes and remaining garlic in pan. Add ½ cup wine. Place pan in oven and cook, turning once and adding remaining wine, until skin becomes crispy, about 10 minutes. (To test for doneness, insert a metal skewer into the middle of fish for 5 seconds. Remove the skewer and if warm, then fish is cooked.)
Transfer fish to serving plate. Arrange roasted tomatoes and lemon slices alongside fish, and drizzle with pan juices. Serve immediately.
Want to read more from HuffPost Taste? Follow us on Twitter, Facebook, Pinterest and Tumblr.

BEFORE YOU GO