Carly Rae Jepsen has found a new beau to call her, maybe: Jepsen has been spotted canoodling with singer-songwriter Matthew Koma of late. But in the October issue of Glamour, the 26-year-old songstress opens up about the man who inspired the lyrics to her ubiquitous single (or more specifically, who it was she "missed so bad" before he came into her life).
"I was nominated for songwriter of the year in Canada, at the Juno Awards, and I went with my father so he could help me walk down the red carpet in my four-and-a-half-inch heels," Jepsen tells Glamour. "At the last second he got stage fright. So my producer offered up his friend Jordi Ashworth to be my arm support while I walked in these crazy shoes. We've been together ever since." (Jepsen and Ashworth have split since the interview.)
We can only hope that her relationship with Koma will spark a similarly massive hit. In fact, Koma recently produced "This Kiss," her follow-up to "Call Me Maybe," along with LMFAO's RedFoo.
Jepsen also tells Glamour she was flattered by all the "Call Me Maybe" imitations that surfaced this summer. While we'll admit we're partial to Cookie Monster's rendition, Jepsen reveals her favorite take on the track:
"I remember seeing the YouTube spoof with Justin Bieber, Selena Gomez, and Ashley Tisdale and thinking, That looks a lot like Justin Bieber— oh my gosh, that is him!"
For more on Carly Rae Jepsen, click over to Glamour.com.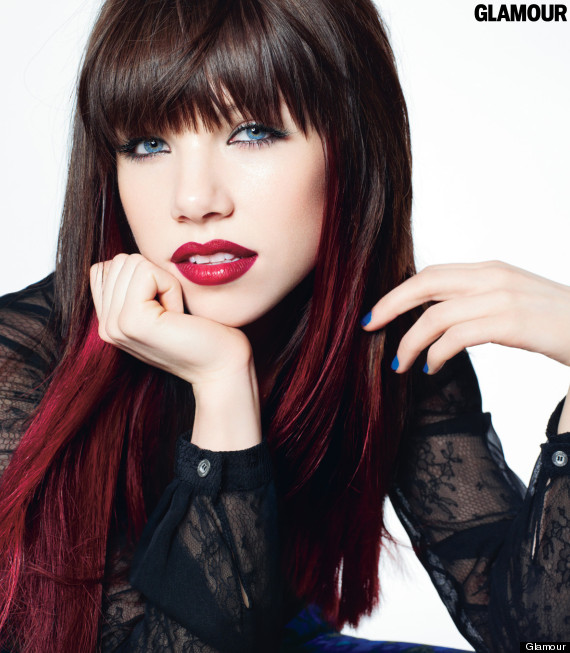 PHOTO GALLERY
Carly Rae Jepsen's Summer Performances
BEFORE YOU GO