New York Fashion Week has been over for less than 24 hours, but Cathy Horyn has managed to rile up a designer over one of her show reviews.
Horyn, the New York Times' fashion critic and one of the industry's preeminent journalists, has irked Oscar de la Renta in her review on his Spring/Summer 2013 show. In her one-paragraph notes on the show, published in the Times on Wednesday, Horyn wrote, "Mr. de la Renta is far more a hot dog than an éminence grise of American fashion." That was enough to inspire de la Renta to take out a one-page ad in Women's Wear Daily to condone Horyn.
In de la Renta's open letter to Horyn, printed in Friday's edition of WWD, the designer wrote:
I respect and accept criticism because in many ways it does help us develop; I try to make my work better each time. What I do not accept is when criticism is personal. If you have the right to call me a hot dog why do I not have the right to call you a stale 3-day old hamburger? My advice to you is to abstain from personal criticism. Professionals criticize the clothes, not the people.
"A stale 3-day old hamburger"? Strong words, Oscar. In any case it seems to be a big misunderstanding: Horyn spoke to Fashionologie today and explained that her phrasing was taken the wrong way. "I used the term in a professional context, as someone showing off his tricks, like a surfer," she told the site.
Fashionologie helps us decipher her meaning: Hotdogging is a retro surfing term referring to emphasizing daring, flamboyant showiness over technical form. An "éminence grise," on the other hand, is one who gains unofficial power and influence by quietly inspiring respect.
Which would mean, then, that Horyn was referring to de la Renta in a professional (rather than personal) capacity, describing his identity and influence as a designer. In light of that, Horyn told Fashionologie, "I thought an ad was a little over-the-top."
Perhaps. Check out Horyn's review at NYTimes.com and Oscar's ad below. Do you think Oscar was right to get offended or did he misunderstand Horyn's intention?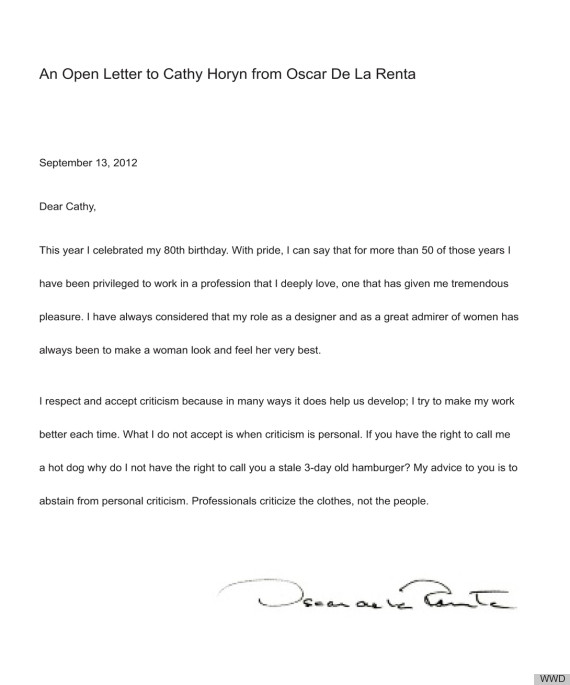 Get a glimpse of Oscar de la Renta's Fall 2012 runway show:
PHOTO GALLERY
Oscar de la Renta Fall '12
Want more? Be sure to check out HuffPost Style on Twitter, Facebook, Tumblr and Pinterest.