This week in the Arts & Culture world we oozed jealousy over whoever found a flea market Renoir, got all squeaky about the cutest piano prodigy of all time and learned the mysterious story behind 'Innocence of Muslims.'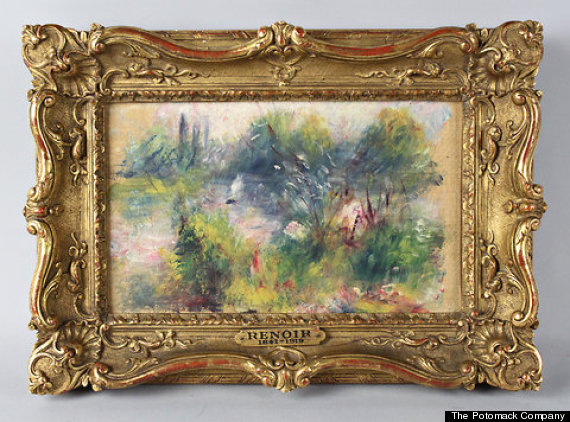 A woman who bought a $7 box lot at a flea market may have unwittingly scored an original painting by Pierre-August Renoir. An auction house believes the landscape to be Renoir's "Paysage Bords de Seine," which it values between $75,000 and $100,000.
The Shenandoah Valley resident, who wishes to remain anonymous, was drawn to the box for the Paul Bunyan doll and plastic cow included with the painting. "I'd never seen a Paul Bunyan doll before," she told The Huffington Post in a phone conversation, identifying herself only as "Renoir Girl."
While this five-year-old boy is not South Korea's Yoo Ye-eun, this Hong Kong tot absolutely floored us with his skill. Who knew these little fingers could move so quickly?
A recent Reddit thread with over 400 comments about the clip questions the authenticity of the video, but we're taking the less cynical road. This kid seems to have an amazing talent, as you can see in the video above. He's even perfected his "tortured artist" finale, but breaks it with a smile in the last few seconds.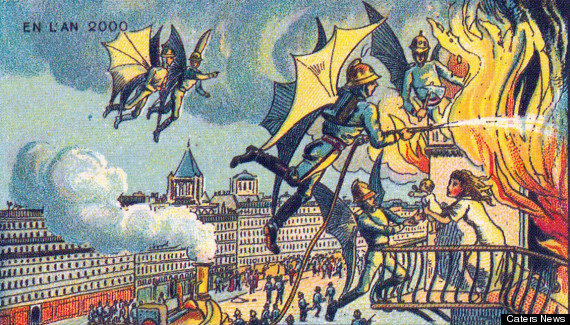 If you asked a 19th century Parisian what the world would look like in the year 2000, we bet they would talk a lot about underwater recreation and winged-human activity. At least that's what we would assume after seeing this postcard series by Jean-Marc Cote and other illustrators.
Created in 1899 for the next year's World Exhibition in Paris, the bizarre series portrays how the various artists imagined the future of their city. From bat winged-firemen to automated barber shops to a lot of underwater recreation, they created a truly absurd vision of the 21st century.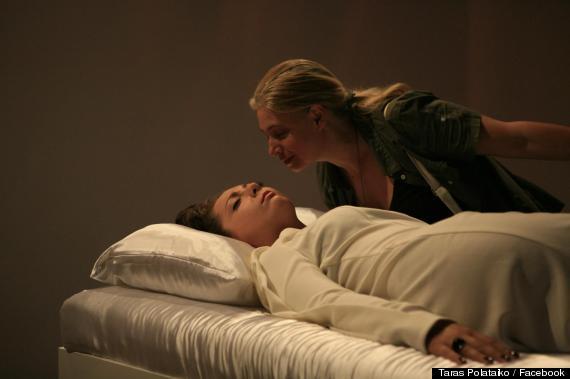 We were pretty miffed when we received a press release for Taras Polataiko's performance art piece, "Sleeping Beauties," at the National Art Museum of Ukraine. The idea of five women feigning sleep on a white satin bed, waiting for a kiss from some guy with an Eastern European mullet, was slightly stomach-lurching.
What we thought was an archaic fairy tale construction has delivered quite the unexpected ending, however. On September 5th, the first Sleeping Beauty to wake from her slumber opened her eyes to a princess charming, not a prince. That's right, the traditional tale of a heterosexual "happily ever after" gave way to a gay version that ends with two damsels instead of one (and neither is in distress this time around).
Ukraine does not allow same-sex marriage, so if the two faux fairy tale characters wish to fulfill their contract solidify their true love, they will have to do so in another country. Commenting on his Facebook photograph last Thursday, Polataiko stated: "And as it hits the international news...it might propel the discussion about same sex marriage here." A posting in the online archives of Backstage offers strong evidence that the actors cast in "The Innocence of Muslims" were misled by the film's producers about the project's content and intentions. The original casting call for "Desert Warrior" listed the director as "Alan Roberts" and the producer as "Sam Bassiel," a slight variation on the names "Sam Bacile" and "Sam Bossil."
The name "Sam Bacile" has since been proven to be an alias for Nakoula Basseley Nakoula, a Los Angeles-based, 55-year-old Copic Christian with a record of previous felonies and aliases. Federal court papers listed Nakoula's numerous aliases as Nicola Bacily, Erwin Salameh, Amal Nada; Daniel K. Caresman, and P.J Tobacco, among others.