Before Lady Gaga was on the cover of Rolling Stone, she was just a girl named Stefani performing in a downtown bar. Captured on the Lower East Side by a New York nightlife photographer, we see her pre-rockstar pout in this week's Moving Image photo essay in Huffington. The essay is a curated collection of rare rock images from Rock Paper Photo, an online fine art gallery full of moments in rock history that most haven't seen before.

A blend of outtakes from iconic photo shoots and performance candids, Rock Paper Photo pictures are the stop-stare-and-daydream shots that are discovered through CEO Mark Halpern and his team's knack for unearthing gems from the photo archives of any photographer who will grant him access to their image storage. According to Halpern, most photographers tell him, "I have about a million negatives in boxes under my bed. I haven't looked at them in 30 plus years."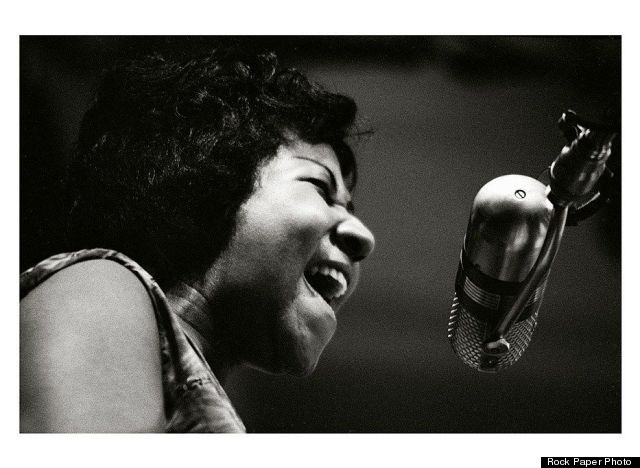 Who met Aretha Franklin?
She's so young here. That was at the 1962 Jazz Festival. The photographer is Ryszard Horowitz. He was invited to jam sessions with Duke Ellington who brought on guest artists. Horowitz is from Poland. He survived Auschwitz. He immigrated in 1959. He was there and captured that moment. His whole story is so fascinating.
What is the process in finding rare photos?
We have to network with photographers. There are some photographers who are well known who have done a good job of marketing their historical work... that is probably one percent though. If you are a professional photographer in the 70s, you have a ton of photos. Unless you are organized and go through an archival process, decades pass before you spot something significant.
What is the biggest difference between the way photographers work today and photographers of the past?
The biggest difference is technology. It's just wasn't as easy to share photos. Wherever photographers upload a picture to, there's a share button. The photos we deal with are analog. It takes time.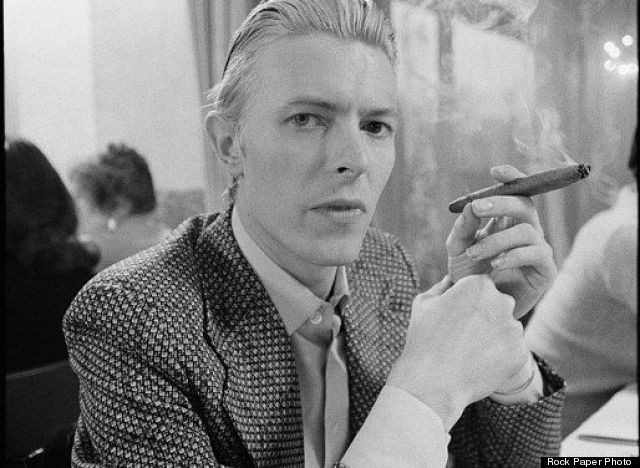 What's happening here?
This is one of my favorites. You see David Bowie as a tourist in Moscow. Bowie just looks so slick in this photo. Not in the frame is Iggy Pop before he even went by Iggy Pop. They were touring around Europe on their 1976 Station-to-Station tour. Andrew Kent, the photographer, was taking side trips to go sight seeing. He was a professional in the 70s and ended up on that tour because he was a friend of Cameron Crowe who was doing a story for Rolling Stone. This stuff will never happen nowadays because of the world we live in. He stopped shooting in the late 70s and early 80s, moved to Idaho, fishes everyday. We came to him recently and said "hey, can we curate and scan your work and have you sign the photos?"
How do you choose your pictures?
The qualifications of the photographer are not that important to us. Someone who is incredibly accomplished in their career... someone that just happened to get a good photo of David Bowie... our standard is it just has to be an amazing photo.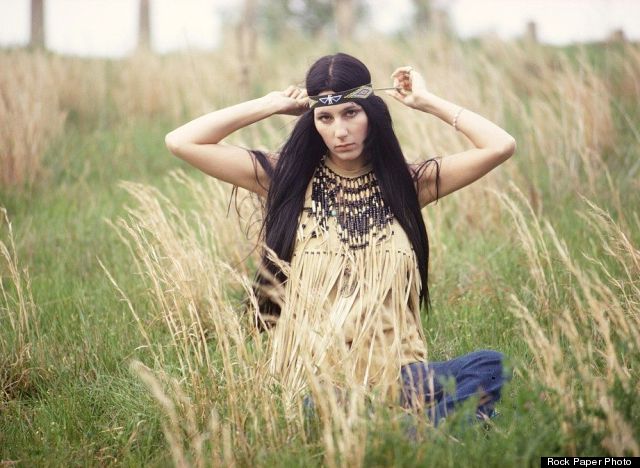 Is this Cher in 1969?
This is an outtake from a Vogue magazine shoot by photographer Stephen Paley. She's in Alabama. This is what happens: Great photos are taken and published once in a magazine and the rest are buried. They deserve to be out there. They deserve to be online. No one even has a magazine anymore. My favorite part of what I do is probably the privilege of seeing the unedited cut. I saw all the negatives from that trip or from that day. Seeing every frame that the photographer shot tells such a story. Every frame is meaningful.
Why do photographers decide to share their precious work with Rock Paper?
They trust us. They believe that we have a sense of what's commercial and what has relevance today and what will sell. They are looking share their work but make some money, help them become fine artists. They are already amazing photographers but they are not all selling fine art.
Least favorite part of the rare photo process?
Dealing with the negatives. They are valuable. I don't want anything to happen to them. It's a manual process. It's all-worthwhile.
Download the latest issue of Huffington free in the Apple iTunes store every Friday and follow us on Facebook.