Earlier this week we ran into Zanele Mji, a columnist for Marie Claire South Africa, right outside our office. Her matchy-matchy jewelry initially caught our attention, but upon closer inspection we knew we had to photograph her for Beauty Street Style.
"I'm in a hair-obsessed phase right now," she told us. "For the first time, after having braids for years, I'm letting out my afro, my natural hair -- so it's like my baby. My hair secret is pure castor oil. It's good for the hair line, especially for women who have had braids a lot and have damaged their hair line." As far as makeup, she's all about long lashes and glowing skin. "A friend of mine gave me Lancome's vibrating mascara and I've never looked back. I adore it. That and the MAC bronzing powder in that big, never-ending tub. I've been using mine for like two years." Check out the rest of her beauty essentials below.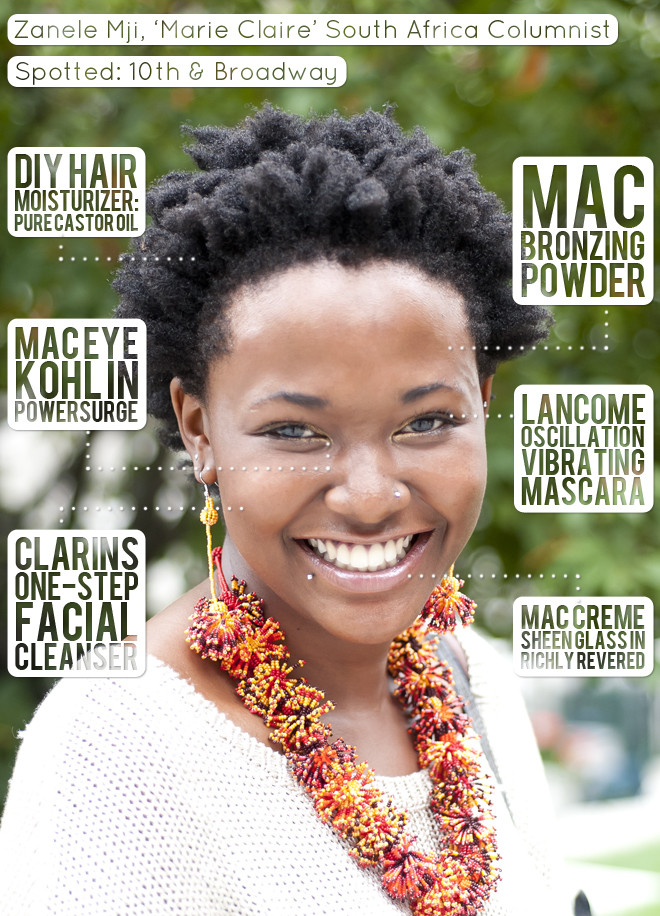 Photo/Art: Raydene Salinas
Click through the gallery to shop Zanele's beauty look, then check out previous Beauty Street Style real girls.
Want more? Be sure to check out Stylelist on Twitter, Facebook, Tumblr and Pinterest.
PHOTO GALLERY
Beauty Street Style