Miami Dolphins general manager Jeff Ireland should be feeling pretty good after his team thrashed the Oakland Raiders, 35-13, to get in the win column on Sunday. However, the unpopular Ireland is back on the hot seat after it has been widely reported that he exchanged harsh words with a fan at halftime of that game at Sun Life Stadium.
An unpopular figure who has already been subjected to fan protests from land and from the sky, Ireland called a fan an "asshole" when confronted. That fan would later call in to 790 AM The Ticket to tell his story.
As reported by Broward Palm Beach New Times, a fan who identified himself as "Sean" called in to the Eric Reed Show and explained that he approached Ireland at halftime of the Dolphins-Raiders game. Sean then informed Ireland that "we need you to fire yourself," per the Miami New Times.
At this point, Ireland called Sean an asshole. According to various reports, other fans would later call in to 790 AM to back-up Sean's account.

With reports of the incident widespread, Ireland confirmed that it took place to Armando Salguero of The Miami Herald, admitting that the fan's words "caught me off guard."
"I literally said it under my breath. At the time I felt I handled the situation pretty good," Ireland said. "Probably muttered it a little too loud. I regret that I said anything."
One enterprising Dolphins fan has already designed T-shirts emblazoned with the slogan and shared the image on Twitter.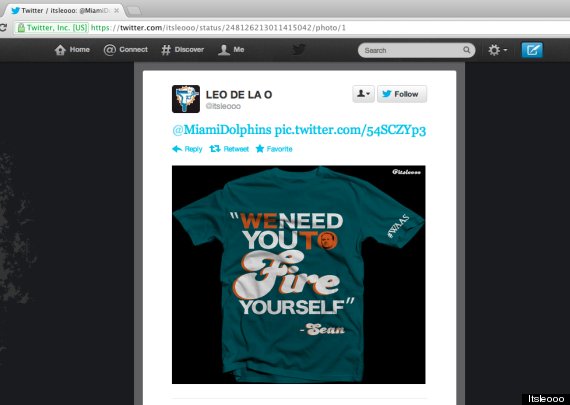 CLICK HERE to see full-size image of shirt.