It's September, which means that while summer is fading for the rest of the country, San Francisco's warmest couple months have finally arrived.
But we'll never escape the legendary layer of fog that encapsulates the northwest part of the city, inspiring both awe and frustration alike. Love it or hate it, the shimmery gray that descends over the bay each evening is as iconically San Francisco as cable cars and sourdough bread.
(SCROLL DOWN FOR PHOTO)
A NASA satellite recently captured an image of the Fog City from above, showing a stark contrast between the blanket of water vapor that hovers over much of San Francisco while leaving Marin County, the East Bay and the southeast neighborhoods perfectly clear.
NASA explains the science behind the phenomenon:
Intrusions by the marine layer—and all of the accompanying fog and clouds—are routine in San Francisco during the summer. The intrusions are caused by westerly breezes that push cold air inland to replace the warm air rising off of California's Central Valley. As it did on the day this image was taken, the marine layer often completely envelops the Golden Gate Bridge in a thick cloak of fog and clouds.
As SFist notes, if you hate the frigid evening breezes, this is why you should live in the Dogpatch. But we still think there's something magical about San Francisco's most famous meteorological wonder.
Take a look at the image below, then scroll through some more of our favorite Golden Gate Bridge shots (with and without the layer of fog):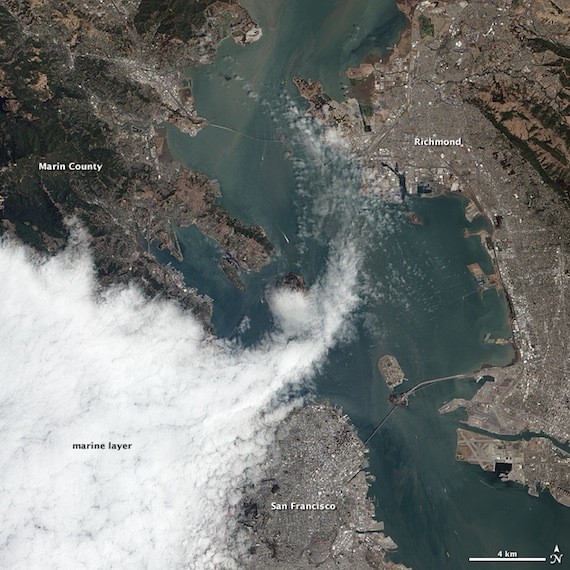 PHOTO GALLERY
Golden Gate Bridge Photo Contest
BEFORE YOU GO