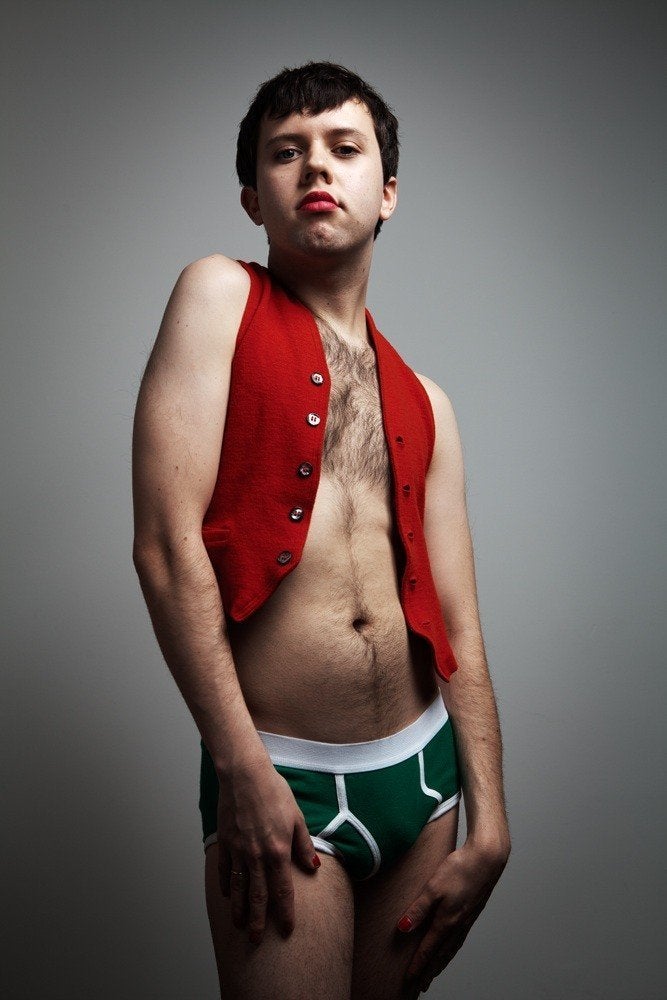 You never know just what Cole Escola's gonna do, but you want to be there when he does it.
Billed as a "white trash girl-boy from the backwoods of Oregon," the diminutive 25-year-old actor, singer and sketch comedian certainly has a flair for the unexpected when it comes to his unique brand of performance art. After some well-received performances at Joe's Pub -- in which Escola paired vaudeville grit with modern-day Manhattan sass -- he's now prepping to debut his "Downtown Darling" show on Sept. 24 at 54 Below, the newly-opened New York City nightspot which has already hosted the likes of Patti LuPone, Brian d'Arcy James and Justin Vivian Bond among others.
In addition to his cabaret stints, Escola also says he's still hoping for a future reunion with pal Jeffery Self, a fellow actor and comedian with whom he starred on Logo's "Jeffery & Cole Casserole" from 2009-2010. In a nod to the Craigslist personals, the devious comedic pair deemed themselves "VGL Gay Boys" and were discovered, in a slightly-less-than-Lana Turner fashion, by Logo executives who came across their off-kilter, irreverent series of YouTube sketch clips.
Now, however, Escola's sole focus is his "Downtown Darling" performance. In a candid conversation with HuffPost Gay Voices, Escola spoke about his musical plans for the new show, promising Taylor Swift, Broadway showtunes, costume changes and maybe even a little skin.
The Huffington Post: How did a "white trash girl-boy from the backwoods of Oregon" like you end up in a classy place like 54 Below? What do you think of the new space?
Cole Escola: You just go to the right parties and meet the right people (laughs). Actually, I previously worked with Scott Wittman, who's a creative consultant at 54 Below. I did a show that he directed called "Jukebox Jackie" at La MaMa with Justin Vivian Bond.
I think the space is perfect for cabaret. There aren't a lot of spaces like it…it's classy and it's what I always imagined a cabaret or nightclub venue to be like. It's like a throwback.
What surprises do you have in store for us?
Well, my goal is for this performance is to keep my clothes on, and not have to resort to nudity (laughs). I just want to put on a good show. I've been doing cabaret-type things, club acts here and there. My goal is to bore as few people as possible.
I have sort of an A.D.D. musicality, so there's going to be a lot of medleys, or as they call them on "Glee," mash-ups. There's some Taylor Swift, Sondheim, Cole Porter and Queen, along with some original music as well.
You mentioned taking your clothes off. Is that something that's likely to happen during the show?
Sure. If I feel like I'm losing [the audience's] attention, I'll just take something off. It gets their attention back for at least another five minutes and then I have to take something else off, and by the end, it's just underwear and champagne or whatever.
Can we look forward to some costume changes along the way?
I think so, yes. I think that is definitely going to happen.
For newcomers to the phenomenon known as Cole Escola, how would you describe yourself?
I would describe myself as an impish, loud weirdo. I always say I'm another one of those gay writer-performer types, but cute.
We're sure you've got plenty of pre-show rituals -- you've got to share at least one with us.
I eat a lot of fiber (laughs). I always buy my outfits for the show on the day of the show itself. I just go and treat myself to a new pair of sequined shorts or a baby blue onesie.
What are the pluses and minuses of working in front of a live audience as opposed to YouTube or TV?
I sort of treat them the same way. In a live performance, you need the audience's permission to edit. I can't say which one I prefer more either…I joke sometimes that I'm going to take a break from cabaret to focus on my YouTube career because that's where the money is (laughs).
I'm much more likely to have sex with someone after a live performance…which is both a plus and a minus, big picture-wise. With a video, you work a day making it and people can keep seeing it. With a live show you work for a month or so, and then a couple of people maybe see it. And that's both a plus and a minus.
Live performance is a lot more nerve-wracking for me because I can't take things back…there's more rehearsal and there's more writing involved.
At HuffPost Gay Voices, we were all really big fans of the "Jeffrey & Cole Casserole," your Logo sketch comedy show with Jeffery Self, who also happens to be one of our bloggers. Can we look forward to a "VGL Gay Boy" stage or screen reunion in the near future?
We keep talking about it, and we've actually written a movie script. It's harder than either of us thought it would be, being on different coasts [Self has since re-located to Los Angeles]. And now he's got things going on with his book coming out next spring, and I'm busy here trying to keep my clothes on (laughs) but we do talk. I think it will happen, but I don't know when.
What's the film script about?
It's about two friends, Jeffery and Cole, who have to go through a lot to redeem their free sandwich…they have one of those free sandwich punch cards, buy eight and get the ninth one free, you know? It's a lot harder than it should be to get their free sandwich. It's a comedy.

Finally, how does a quadruple-threat like Cole Escola want most to be remembered -- as a singer, an actor, a dancer, a comedian or all-out diva?
Well, I'm really only a double threat…I can't dance, but the two I have are really threatening. I just want to be remembered as a personality. I just want to be on a game show and be like Brett Somers or Charles Nelson Reilly.
PHOTO GALLERY
The Best Of Cole Escola