Whether you love or hate the glassblowing tour de force, Dale Chihuly is one of the most recognizable artists alive today.
The Seattle-based entrepreneur has gained a reputation as "the Thomas Kinkade of sculpture," a reference both to his kitsch aesthetic and handy team of dedicated workers who actually make his art for him.
After graduating school with a degree in sculpture in 1967, Chihuly began a career in glass work, creating bombastic sea-inspired forms that resemble the magical lovechild of a jellyfish and bejeweled necklace. People for centuries have been fascinated with glass," Chihuly states on his website. "It's the most magical of materials." (We have to admit, he might be on to something.)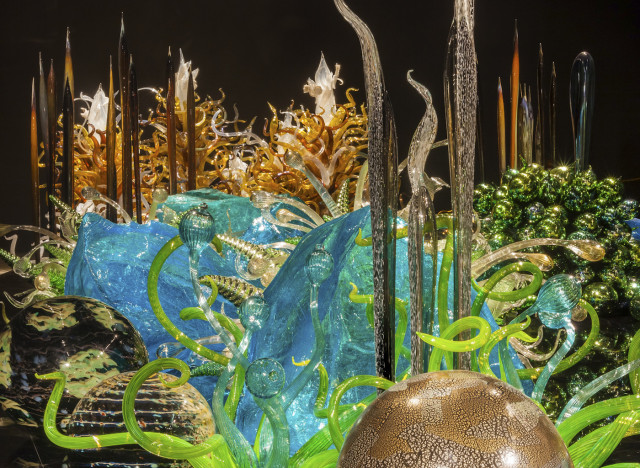 Yet after a tragic 1979 bodysurfing accident, Chihuly dislocated his shoulder and could no longer make works himself. He enlisted a team of sculptors to carry out his artistic visions, making him either a master choreographer, a savvy entrepreneur or a fraud -- depending on your perspective.
Like Kinkade, Chihuly appeals to a massive audience — in fact, we are willing to bet one or both of your parents is a big fan of his bulbous works. It should come as no surprise thatUSA Today's travel correspondent Barbara De Lollis identified "Fiori di Como," a Chihuly ceiling in the Bellagio hotel, as her readers favorite Facebook post of all time. (The site is also one of the most photographed images in America, by the way.)
Chihuly's work thrives in Vegas, surrounded by other gargantuan odes to all things glossy, superfluous and visually intoxicating. Like the MGM pyramid or the fake Eiffel tower, the visual virtuosos have little intellectual or historical substance, and don't pretend to.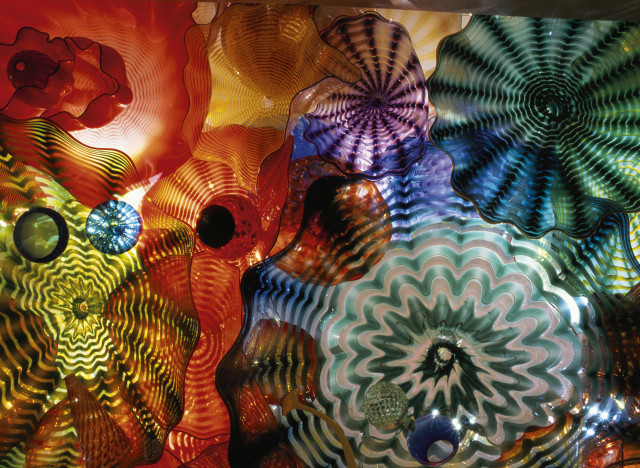 His work often receives a harsher critique, however, in the more conceptually rigorous museum setting. In 2008, for example, Chihuly had an exhibition at the de Young Museum in San Francisco, which was met with scathing reviews denying Chihuly's work as "real art." Kenneth Baker in SF Gate wrote: "The history of art is a history of ideas, not just of valuable property. Chihuly has no place in it, and the de Young disserves its public by pretending that he does."
There is a magic to Chihuly's works, albeit a mass-produced magic, that attracts and inspires millions of people around the world. Who are we to deny this attraction? And yet, there is something empty in the promise of this "magic," isn't there?
Chihuly's work may not say much, but it sparks an exciting conversation about what constitutes a work of art in terms of authenticity, ideas and commercialism. We'd love to hear your opinion on whether an artwork needs a conceptual aspect to stand on its own. Can Chihuly hold down his own among other controversial artists like Marcel Duchamp or is his work more appropriate to be hanging alongside Vegas icons like Siegfried and Roy?
Take a look at this preview from Chihuly's show at the Virginia Museum of Fine Arts, from October 20, 2012 to February 10, 2013.
PHOTO GALLERY
Dale Chihuly
BEFORE YOU GO