Eric Leppanen, 42, once sold credit cards for a living. Now he is warning people against them.
"If I can get one person to decide not to go into debt and save up instead," said Leppanen, who lives with his wife and two children in Belfast, Maine, "the world would be a much better place."
Leppanen's credit card conversion started four years ago. In 2008, he and his family were living the American dream: A mortgage, new truck, and plenty of easy credit.
Leppanen was making nearly $70,000 with salary and a bonus as an assistant vice president with Bank of America. His job? To market balance-transfer promotions for the company's credit cards.
But his insider's knowledge of the credit card world helped him to do something else: Pump up his own credit lines until he racked up $60,000 in credit card debt.
"It was a crazy game to switch balances back and forth, it made sense on paper," he said.
But then the bottom fell out in January 2009, and Leppanen lost his job at the bank. Unable to keep up with bills even after liquidating some of his 401(k), he declared bankruptcy later that year.
That was the low point Leppanen needed to find his true calling: He started his own small business cleaning homes and tending yards by day, and by night he pursued his passion for art. Leppanen and his family learned to live on half the income he used to make, sold their home and now rent.
But his former life took on new meaning as an artist. An old shoebox filled with the remnants from his past -- dozens and dozens of canceled credit cards -- became material for a recent work, an American flag made out of 169 old credit cards, paint, and quarters. The piece is titled "Indebted States of America."
Leppanen said his financial downsizing has shifted him politically as well. "I used to be more conservative," said the former Bush supporter, who today said he is leaning more towards Obama than Romney. "My political affiliation has changed. I'm conservative on some things, but more in the middle now."
As for the artwork, Leppanen said he has no plans to sell it. "It took me 23 years of blood, sweat and tears to make it," he said.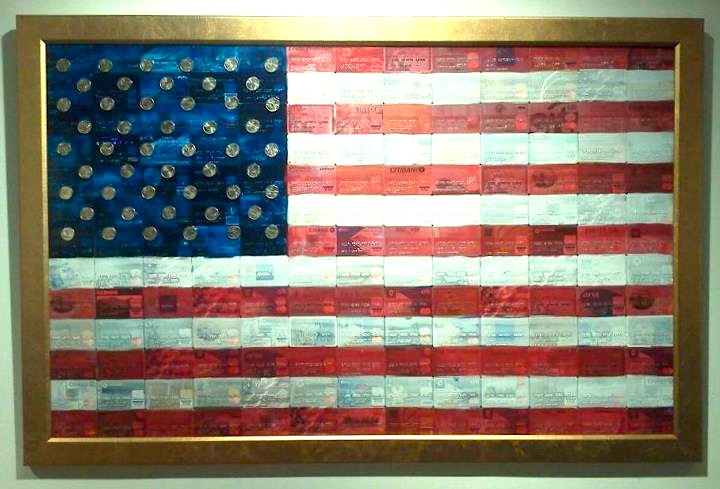 (Hat tip: NBC )
BEFORE YOU GO
PHOTO GALLERY
10 Art Jobs With The Brightest Futures