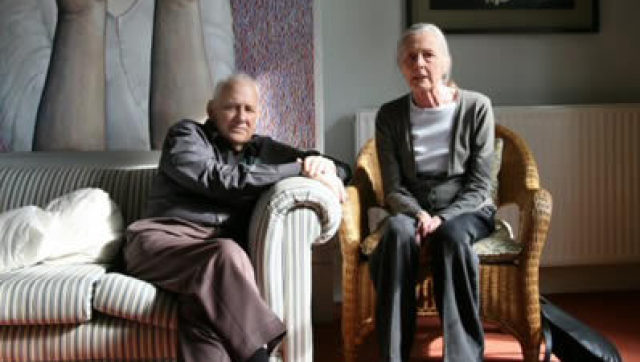 When Anthony Perry inherited a sizable sum from his racist, extremely right-wing stepfather, he decided to give away small chunks of the money to random people who were spreading good.
According the the Guardian, Michael Young, Perry's stepfather died in 2000, shortly after his 100th birthday. His stepson was a little embarrassed when he learned that he would receive an inheritance from someone he considered a "pretty dreadful man."
On his blog, The Lunchtime Observers, Perry describes Young as a racist who spent most of his life advocating for a form of biblical fundamentalism.
"He was wholly self-centred and had no interest in anything beyond his Bible studies and the preparation of his meals," Perry writes. "He neither read a newspaper nor stirred out of the house for the last 10 years of his life. It is hard to find any redeeming feature in the man."
Perry also mentioned the extremist group that his father was a part of -- a "founding member of the League of Empire Loyalists, he claimed, with pride, that he tipped a bucket of offal over Jomo Kenyatta, at that time President of Kenya, a member of the Commonwealth."
Upon receiving the inheritance, Perry gave most of the money to his daughter, bought himself a good suit, and then decided to have some fun with the remaining amount, a little over $16,000.
Perry created the Michael Young Fund, dedicated to giving money to people and organizations who stand for everything his stepfather did not.
"It seemed a nice idea to pass the money he left to some of the individuals and the small organisations that try to do some good in the world and, where possible, to the ones he would have disapproved of," Perry says in the letter that usually accompanies his donations.
Perry started by seeking out earnest people who were doing good, including charities and non-profits, but then decided that this approach was too "mainstream, worthy, and obvious."
Instead, according to the Guardian, he reverted to acting on impulse: sending $162 to a handyman who was helping older people with household repairs; giving $486 to a teacher who got her entire school to participate in different forms of music; and writing a check for $1622 to a general practitioner who accepted patients turned away by other doctors.
Similarly, a young girl with a new baby got $324 from Perry for baby clothes, a stroller, and "generally to cheer everyone up," and two women who work with young people close to his home in north London have received a total of $648.
Recipients of smaller sums, usually $30, include a bishop who presented a Thought for the Day that Perry liked on Radio 4's Today program, Guardian cartoonist Steve Bell "for causing pain to ungodly politicians," and art critic Brian Sewell for his sharp writing in the London Evening Standard.
"I get great pleasure in doing these things," Perry told the Guardian, "because people are so pleased."
Only a few people have returned the check that Perry sent to them, among them the secretary to "an incompetent cabinet minister," after Perry offered the minister a small check for "bravery under fire."
Perry and his wife Evelyn Williams, an artist, replenish the fund from their own savings. However, other people have caught on to the idea. People can request that their donated dollars be sent to a specific person or cause through the Michael Young Fund, and Perry always sends a letter along with the money explaining why the gift is being given.
"It's the easiest thing in the world," says Perry. "If you can afford to do it, instead of just giving an inheritance to charity, why not have a bit of fun?"