We never thought we'd be uttering the names Ann Romney and Beyonce in a single sentence. But fashion -- in particular, Oscar de la Renta -- can bridge the widest of gaps. Fashionista keenly noticed that Bey's recent red dress, worn for her big President Obama fundraiser at Jay-Z's 40/40 Club on Tuesday, closely resembles Ann's from the Republican National Convention.
Both red frocks were Oscar de la Renta (Beyonce's from the more recent 2013 Resort collection) and both had flattering 3/4 sleeves. And from the one photo we've seen of the Obama event, posted by the president's Twitter account, Beyonce seems to have cinched her dress with the exact same enamel flower belt as Ann did last month.
Which could lead us to several conclusions... but we won't go there. Ann Romney likely didn't follow the whole Oscar de la Renta-disses-FLOTUS storyline from several years ago, eliminating any chance her red dress was a dig at the current first lady. (In 2009, the designer dissed Michelle Obama for wearing a cardigan to meet Queen Elizabeth II and later critiqued her choice of Alexander McQueen for a Chinese state dinner. Mrs. Obama still has never worn de la Renta.)
We're also guessing Beyonce is equally unaware of the de la Renta-Obama beef, plus doesn't give two hoots what Ann Romney wears. Her loyalty to the Obamas (especially Michelle) is still intact.
In any case, it's still pretty intriguing that these women, with their drastically different personal styles, have worn essentially the same dresses... at events to support opposing candidates. Isn't fashion funny sometimes?
For another take on it, head to Fashionista.com.
PHOTOS: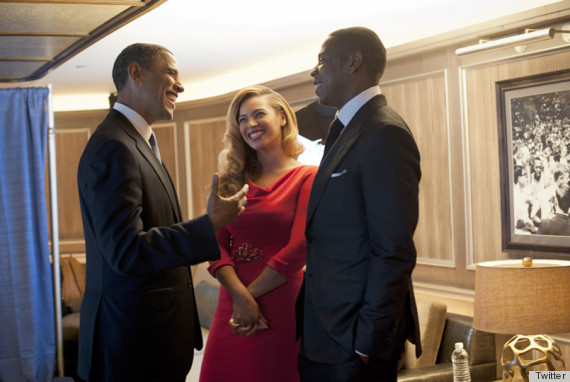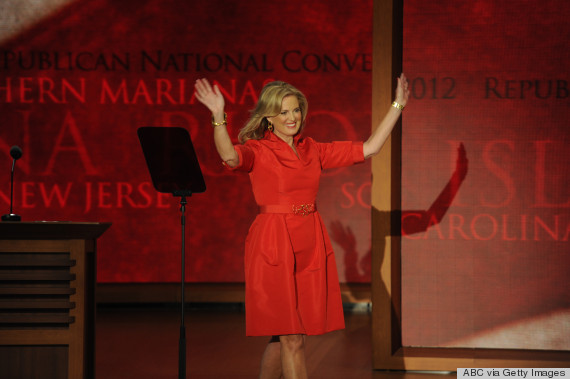 See more pics of Ann's dress:
PHOTO GALLERY
Ann Romney's Speech At The 2012 RNC
Want more? Be sure to check out HuffPost Style on Twitter, Facebook, Tumblr and Pinterest.