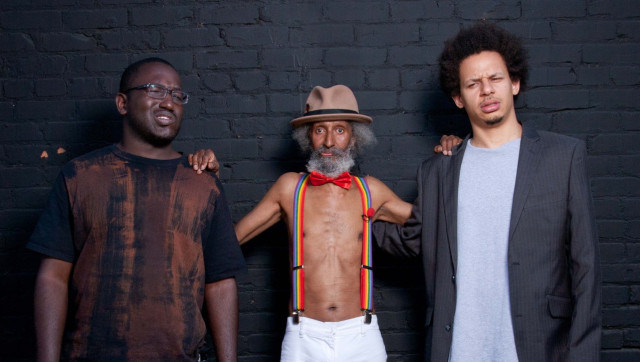 TOP 5 FOR THURSDAY, SEPTEMBER 20
1. The Eric Andre Show At Rock And Roll Hotel
Want to see alt-comedy at its finest? Are you OK with screaming? Fan of male nudity? If you say yes to all three, you probably already know who Eric Andre is. If you aren't familiar, you may want to brush up on the comic and actor. This is not a typical stand-up show. Watch the clip below. Brilliant or stupid. Maybe both. 8 p.m., 21+, $14
2. The Runcible Spoon Release Party At Kafe Bohem
D.C.'s food zine celebrates the release of its "Gross Issue" at the newly opened Kafe Bohem in Shaw. Sample odd food and learn about maggot poop cheese, meat cake and more. 6 p.m., all ages, no cover
3. Make-Up At Black Cat
The D.C. post-punk band returns after 12 years. 8 p.m., 21+, $15
4. The Spring Standards At Red Palace
Enjoy some pleasant male and female harmonies. Their sound fits the season. 8 p.m., 18+, $10
5. Wyclef Jean In Conversation With Michel Martin At Sixth And I
We're interested in hearing the conversation about Haiti. 7:30 p.m., all ages, $35 ticket includes a copy of the memoir "Purpose: An Immigrant's Story"
TOP 5 FOR THE NEXT 5 DAYS
Friday, September 21
Metric at Music Center at Strathmore
They may need stadium love but theater love will have to do.
Saturday, September 22
School Of Rock Local Mini-Tour
If you're ever fed up with adults playing music, see kids rocking and rolling. It's good for the soul.
Sunday, September 23
DC Food Swap at Above the Bike Shop
Meet some like-minded individuals that understand the importance of a connection to what you eat.
Monday, September 24
The Gossip at 9:30 Club
Get down on a Monday night. Beth Ditto is one of the most captivating singers in rock and roll for good reason.
Tuesday, September 25
Laetitia Sadier, Orca Team at DC9
The Stereolab member is now a solo artist. If you liked Stereolab, you'll like her. Openers Orca Team play reverb drenched 60's-inspired pop songs. An up and coming three-piece with an indie rock mainstay. Not a bad bill.