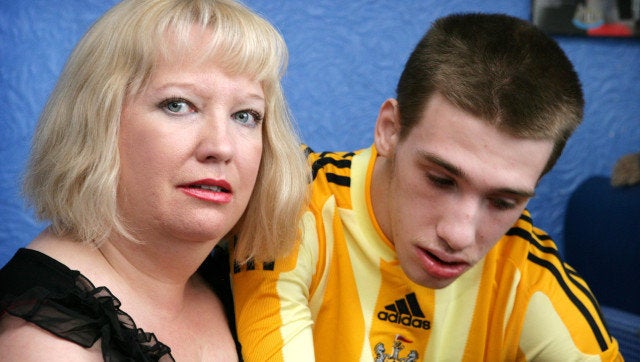 Sharon Bernardi lost her family to a genetic monster called Leigh's Disease, but she hopes a scientific breakthrough will spare others the same tragedy.
Six of Bernardi's children died within hours or days of birth. Another, Edward, lived to age 21, baffling doctors and inspiring followers with his grit.
The Sunderland, England, woman told the BBC recently: "People ask, what was different about Edward? How come he survived as a baby when he had all the problems that would later build up? I don't know but Edward had some fight in him. He was fighting to survive all his life. I think that was in his personality."
His passing last year ended Bernardi's quest to have more children, but it sparked her drive to find a cure. She said in the TV interview that she hopes her ordeal will motivate researchers.
In 2010, reports emerged of scientists at Newcastle University developing a procedure that would enable the transfer of DNA between two human eggs. (See video below.) That meant defective genetic material could be replaced. The breakthrough could treat many kinds of diseases such as Leigh's that are rooted in mitochondria, known as the power supply of cells. One of the case studies was Bernardi -- she inherited the Leigh's gene from her mother, who endured three stillbirths, and passed it down to her own offspring.
"It will be too late for me but it would be an amazing thing if scientists and doctors can prevent this in the future," she told the Wellcome Trust, one of the experiment's funders, at the time of the discovery.
Edward, Bernardi's fourth child, lived longer than anyone with the disease, according to the Daily Mail. He was 11 when the last of his six siblings, Caroline, died in 2000, just 22 hours after delivery.
According to the National Organization of Rare Disorders, Leigh's is a neurometabolic disorder that ravages the nervous system, causing seizures and premature death. Doctors diagnosed Edward with Leigh's at age 4 when his violent, painful seizures began. They predicted he wouldn't make it to 5.
Bernardi said to the BBC: "It's hard when you want to have a family, and you finally have a baby like Edward, and you think you're finally getting somewhere with your hopes and your dreams, and then somebody tells you that at any moment your child is going to die."
Edward was ultimately felled by a heart attack in March 2011. Now that the clue has been unlocked as to what might prevent others with Leigh's from meeting the same fate, Bernardi and husband Neil can at least be satisfied that others afflicted may know what they're facing. As she lamented to Wellcome Trust: "I would get pregnant again and just pray this time would be different."
BEFORE YOU GO