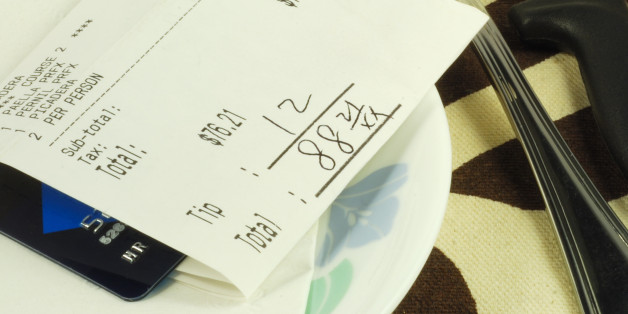 Servers at the Harvard Club of Boston have schooled their employer in how to treat the help, getting a $4 million settlement in a tipping dispute, reports say.
In November, three workers sued the club in a class-action lawsuit over a 17 percent "Club Charge" on food and drink that appeared to be a tip but was kept by the club, according to workers, reported the Boston Globe.
Because the club represented the add-on as a service charge, some members thought they were leaving a form of gratuity to compensate for the club's no-tipping policy, the complaint said. But employees were not getting the money.
The 5,000-member club is not affiliated with the university though many of its members are alumni of Harvard.
The controversy is the latest to rock the Harvard community - the university's administration is investigating whether as many as 125 students cheated on their final exam by sharing answers or plagiarizing.
Now the Harvard Club will be parting with some of its proceeds. "It has been amicably resolved," Shannon Liss-Riordan, a lawyer for the waiters, bartenders and busboys, told Bloomberg.
The club announced the agreement to members in a letter on Tuesday. The letter, obtained by The Huffington Post, explained that a protracted legal battle "could have placed the club in limbo for years with litigation costs easily reaching seven figures." It added that a defeat would triple the damages.
"While we are confident the Harvard Club did nothing wrong, we could have done a few things better to ensure strict compliance with the Massachusetts tip statute," the letter said. "To be clear, we did not consistently provide the parties to every transaction with direct written communication reminding them that the Club Charge is not a tip, gratuity or service charge. As a result, and despite our clear no tipping policy, we might have been subject to a number of very onerous provisions of the statute, including mandated treble damagesfor any jury award, plus interest and legal fees."
The Harvard Club regular who emailed the letter (and asked not to be identified) said of the surcharge, "I wasn't entirely clear what it was for."
Pending expected court approval of the deal, the club will pay in three installments and will fund the settlement in part through the sale of its annex, according to the letter.
The club reminded members that it pays its employees $16 to $19 an hour and offers them better benefits than "typical" hospitality jobs.
That said, do you think the Ivy League establishment pulled a bush-league move? Has justice been served?