Kate Middleton is anyone and everyone's definition of posh. The elegant Alexander McQueen dresses, the standard-issue princess glossy hair, the prim fascinators: the duchess definitely knows how to do proper royal style right.
We're a little surprised, then, to hear that the Duchess of Cambridge reportedly hand-picked seven different pieces of jewelry to wear from the My Flash Trash website run by Amber Atherton, one of the stars of Britain's reality show "Made in Chelsea."
Atherton's jewelry site is gorgeous and features a number of talented accessory designers, but still, if you need a this-side-of-the-pond comparison: it's like Gwyneth wearing "Jersey Shore" star Sammi Sweetheart's work-out clothes.
Catherine was spotted in several pieces from the "My Flash Trash" collection while she and Will trekked through Asia on their just-wrapped-up royal tour. Among them: Catherine Zoraida's £420 Spread Your Wings bracelet with her white and gold Alexander McQueen gown. The duchess also wore the £36 Red Sponge Coral Earrings designed by Serretta Morris. And My Flash Trash has already caught on: "Royal Pick!" the website declares right when you sign on, with links to the pieces and photos of Catherine all bedazzled. (Not that we blame them, honestly.)
"We are over the moon that Kate has been supporting British business by wearing trinkets from myflashtrash.com," Atherton told the Daily Mail. "It was such a surprise that she actually decided to have them and yesterday we sold a pair of earrings every four minutes as customers found out it was us who sold her the pieces."
At time of writing, both pieces are still available on the My Flash Trash website, but we bet those "SOLD OUT!" online shopping banners aren't too far behind.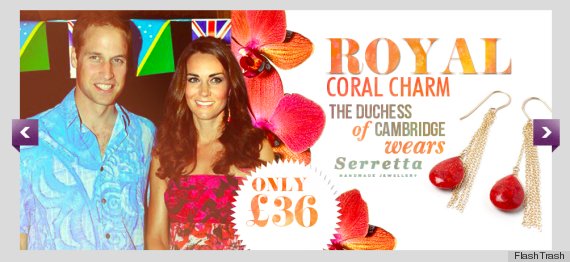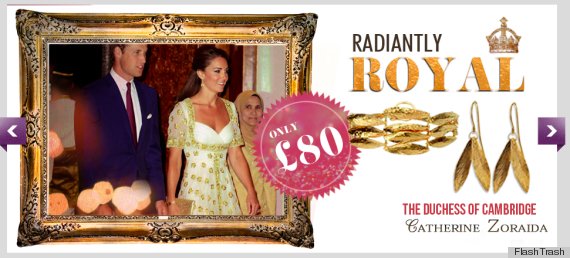 Check out what Kate's been wearing this year!
PHOTO GALLERY
Kate Middleton's 2012 Outfits
Want more? Be sure to check out HuffPost Style on Twitter, Facebook, Tumblr and Pinterest.