Labor Day 2009 started out like any other holiday weekend for Michelle and Daniel Childers of Kamiah, Idaho.
"We decided to go out for a drive and just go grouse hunting," he said. "Just hang out and stay out of trouble for the weekend."
Trouble found them in the form of a tree branch that impaled Michelle in the neck and almost went straight through her.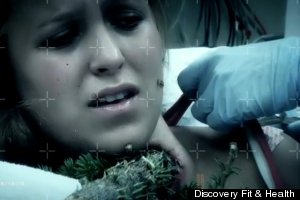 She survived to tell the tale on "I Was Impaled," a Discovery Fit & Health show airing Saturday nights that focuses bizarre injuries.
"When we were driving down the road, there was a lot of brush," Daniel said. "It was like driving through a tunnel. Things would just go down the side of your truck."
During the ride through the wilderness, Michelle leaned forward to adjust the CD player.
"There's just like an explosion and everything stopped and it was black," she said.
Daniel slammed on the brakes immediatel and Michelle suddenly felt like a tree was on her.
"I didn't actually think anything was inside my body," she said. "[The branch] just went and turned me and when it turned me, I think it broke off in the window and just whipped me back like a rubber band."
Daniel was the one who noticed the branch's location.
"I looked over and a huge stick was sticking out of her neck," he said. "I immediately thought she was going to die."
The branch that penetrated Michelle's neck was one foot long and two inches wide.
"I knew it didn't go all the way through, but I knew it was poking the skin in the back," she said.
Since they were out of cell phone range, Daniel had to turn the car around and drive the car an hour or more on bumpy roads to get her to civilization.
Their first stop was a lodge where Daniel was able to use a phone. Luckily, a nurse practitioner was staying there and checked Michelle.
Since she wasn't bleeding, and could talk, breathe and swallow, the N.P. told her she was going to be fine, The Today Show reported at the time of the injury.
A helicopter came to the Lodge to transport the couple to a hospital.
More than three years later, Michelle is fine, but keeps pieces of the branch as a souvenir of the event.
GALLERY: AMAZING X-RAYS AND MEDICAL PHOTOS
PHOTO GALLERY
Wild X-Rays And Medical Photos
BEFORE YOU GO