The bright watercolors and adorable almost-poems that fill "The Bear," a Kickstarter book project masterminded by Canadian comic artist Ryan Sohmer, represent a new dad's heartwarming reflections on the nurturing relationship between father and son -- and how it can work both ways.
Sohmer, who spoke with HuffPost Parents over the phone, enlisted California artist Becky Dreistadt to conjure up his cast of animal characters -- from pelicans to polar bears -- to illustrate an overarching philosophy of parenting. He describes it as: "No matter how bad things are, how tired you are, how much you just want to curl into your bed and just die (which I think every parent goes through) you've got to be able to find the enjoyment."
The book's title comes from a nickname for Sohmer's 2-and-a-half-year-old son, who is "absolutely obsessed with animals" ("when he sings 'Old McDonald Had a Farm,' everyone else is doing cow or goat, and my son is doing alpaca," the proud dad explains).
Sohmer says he started jotting down ideas in the middle of the night because his son was keeping him awake -- and his favorite image from the collection, which shows a lion sitting with his cub in an armchair at nighttime, illustrates a similar scenario.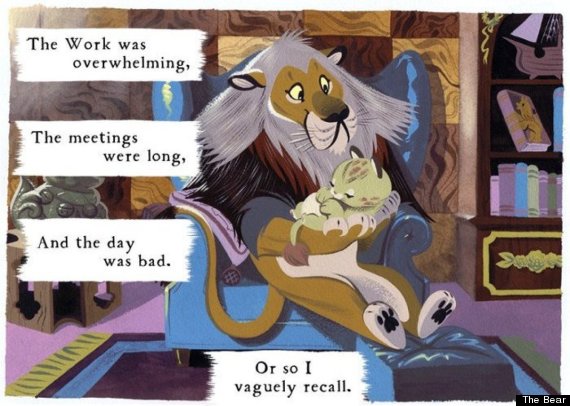 "You can just tell that it's more for the dad than it is for the son," Sohmer tells HuffPost, "and there's so many days that I've had just like that." On the day he dreamed up the image, he says "I got home, and I was in such a shitty mood -- I was so unhappy -- and it was already past my son's bedtime. ... I went and I picked him up and he fell asleep on me and I'm like, OK. Things are OK."
Sohmer explains that he decided to crowd-source funding for the project because he wasn't positive he'd find readers. "I'd been told by a lot of publishing companies that there would be no interest in something like this," he says. "I could give you a pretty impressive list of rejections."
So, is there a market for his meditations? The answer appears to be an emphatic "yes." Sohmer reached his original funding goal in less than two days, and with five days left before his Kickstarter effort ends, he's collected more than $75,000 in donations -- roughly three times the amount he was originally angling for -- from almost 1,500 people.
"My dream would be to continue the series," Sohmer says. "As my son gets older, and as I get older, I would love to have 5-10 books, and just have it be his entire life."
PHOTO GALLERY
The Bear: A First Time Parent's Journey
BEFORE YOU GO