If you grew up in an American suburb, surrounded by sprawling subdivisions on one side and pockets of rarely trekked forest on the other, you can't help but feel a twinge of nostalgia looking at photographer Amy Stein's work. Her portraits of human-animal interactions perfectly capture the exhilaration you might have felt when, in the midst of your neatly kept neighborhood, you became face-to-face with a little piece of the wild.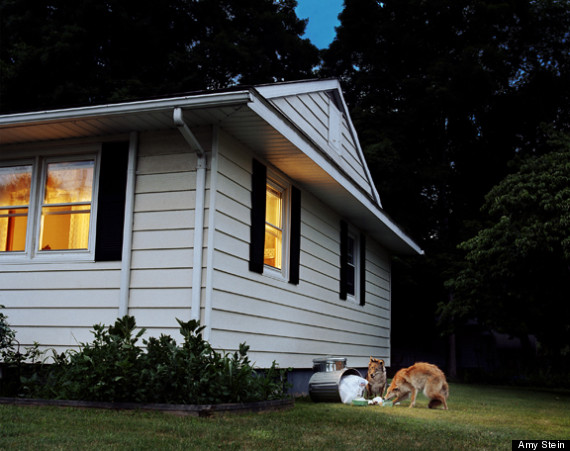 Stein's images, collected together in a series and book titled "Domesticated," are based on real stories of such contact with the other side, told to the artist by residents of a small town in Northeast Pennsylvania called Matamoras. Stein takes each story and reconstructs the encounter into a staged portrait, using her interest in taxidermy to create what appear like candid shots. Though the animals are not alive, the resulting vignettes show the mystifying relationship between man and the natural world.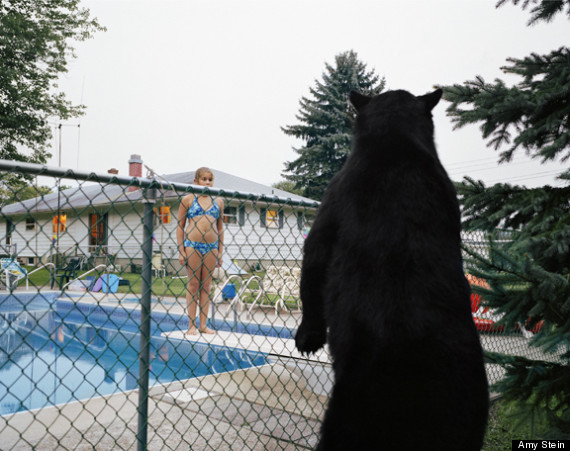 In an e-mail to The Huffington Post, Stein described her series as follows: "Within these scenes I explore our paradoxical relationship with the 'wild' and how our conflicting impulses continue to evolve and alter the behavior of both humans and animals. We at once seek connection with the mystery and freedom of the natural world, yet we continually strive to tame the wild around us and compulsively control the wild within our own nature."
Check out more images of Stein's "Domesticated" series below. You can see more of her work in her upcoming book "Tall Poppy Syndrome."
PHOTO GALLERY
Amy Steins Domesticated
BEFORE YOU GO