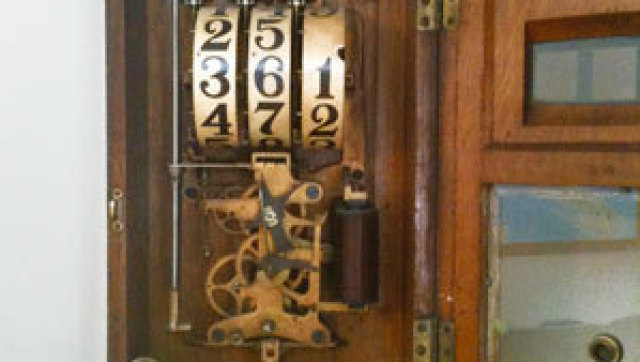 We're very excited to syndicate one of our favorite columns, 'What Is It? What Is It Worth?' from one of our favorite magazines, Country Living. All text and images below are provided by Country Living. Get ready to be surprised!
"This Gamewell machine has been in my family for decades. Any idea what it is?" - D.P., Eau Claire, Michigan
Late-19th-Century Fire-Alarm Indicator
Our antiques specialist, Helaine Fendelman, appraises your finds and collectibles.
Believe it or not, this heirloom once functioned as a fire alarm—and it's a real prize. Known as a Gamewell indicator, the mechanism dates to the late 1890s, as suggested by its solid oak construction. In 1852, Boston became the first U.S. metropolis to institute a central fire-alert system, posting boxes in most neighborhoods; an activated box sent a signal to a dispatcher's indicator, like this one, via telegraph lines. Entrepreneur John Gamewell purchased the patent for the technology in 1859, and, three decades later, he dominated the market with alarms in 500 cities nationwide (the company still makes industrial systems today). Though telephones rendered early-model indicators obsolete after World War II, they remain highly sought after by collectors; so much so that, despite abrasions, this is worth a pretty penny.
What It's Worth: $1,800
Also check out on CountryLiving.com:
Pumpkin Decorating & Carving Contest