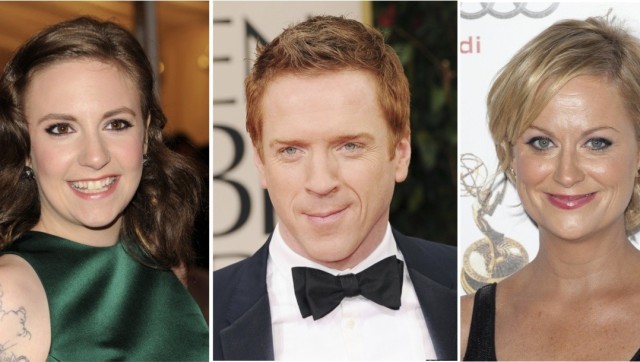 The 64th Primetime Emmy Awards kick off at 8 p.m. ET/ 5 p.m. PT on ABC live from the Nokia Theater in Los Angeles. Late-night talk show host Jimmy Kimmel will host the Emmy ceremony for the first time.
Another Emmys first-timer, Showtime's "Homeland," is shaking up a few races with its nominations for Outstanding Drama Series, Lead Actor and Lead Actress. Meanwhile, "Downton Abbey" entered the Drama Series category instead of the Miniseries/Movie race for the first time and scored seven total nominations.
On the comedy front, another newcomer, HBO's "Girls," picked up Emmy nods in the main Comedy Series category, and series creator Lena Dunham earned a nod for Lead Actress in a Comedy Series.
Records could be set at the 2012 Emmys as well. Sunday's ceremony gives "Mad Men" a chance to win its fifth Emmy for Best Drama, surpassing fellow record holders "Hill Street Blues," "L.A. Law" and "The West Wing."
Find out who takes home Emmy gold, what the stars wear and more live updates from HuffPost TV's Emmys 2012 liveblog below.
09/23/2012 11:02 PM EDT
@ jimmykimmel :

Just opened a beer using Jon Hamm's chin! #emmys
09/23/2012 11:01 PM EDT
@ LaurenGreenberg :

Great job thanking ALL THE WIVES, Homeland. #EmmysCongrats
09/23/2012 10:57 PM EDT
Outstanding Comedy Series winner: "Modern Family"
09/23/2012 10:56 PM EDT
"Homeland" is pretty much sweeping this year's Emmys...at Mad Men's expense?
09/23/2012 10:50 PM EDT
@ jessetyler :

"Look there's Robert Cranston and Tina Foy". -my mom at the #Emmys
09/23/2012 10:48 PM EDT
Outstanding Drama Series winner: "Homeland"
09/23/2012 10:46 PM EDT
Miniseries or TV Movie winner: "Game Change"
BEFORE YOU GO