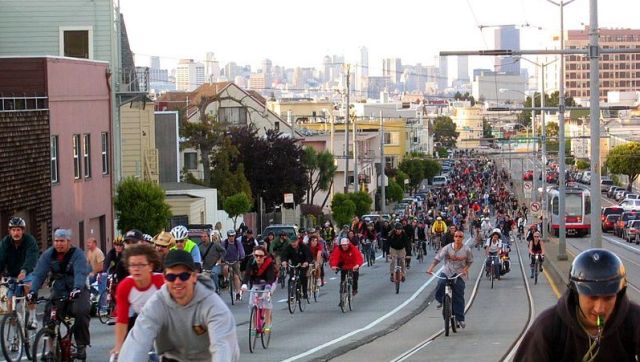 Twenty years ago, on a Friday night in late September, 50 cyclists showed up on Market Street. Organized only by fliers and word-of-mouth, the leaderless group rode through the city together to bring attention to bicycle safety. Critical Mass, now a global event that draws thousands, was born.
And this Friday, cyclists from around the world will come to San Francisco's Justin Herman Plaza to celebrate 20 years of the event with a ride for the ages.
Critical Mass cofounder Chris Carlsson appeared on KQED's Forum to talk about the history and goals of the event.
"In those days [when the event began], we cyclists liked to joke that we kind of all knew each other because there weren't very many of us," said Carlsson. "We were treated as idiots, second-class citizens or children. People would say, 'grow up, get a car,' as if that was somehow an act of adulthood."
Carlsson explained that the hostile attitude made it unsafe for cyclists in cities.
"So we started to ride home together as a group and make a space for ourselves so we wouldn't be shunted to the side and in danger."
Though sometimes seen as a nuisance to drivers in traffic, Critical Mass has since swelled to a collection of major global events. A 2008 ride in Budapest, for example, was attended by 80,000 riders. Perhaps more importantly, daily city ridership has grown immensely around the world, as have bike-friendly city policies.
"We've been delightfully surprised to see how it's taken off," said Carlsson on KQED.
To celebrate the anniversary of Critical Mass, the San Francisco incarnation will host a week of rides, parties and events, culminating in a mass ride on Friday. Carlsson and two other riders, Hugh D'Andrade and LisaRuth Elliott, will soon be releasing a book of essays, photographs and posters from events across the globe.
Check out the unofficial Critical Mass website for info about this week's events, and listen to KQED's interview with Carlsson for more on Critical Mass. Then, look through a slideshow of our favorite rides through the city.
PHOTO GALLERY
The SF Bay's Best Bike Trails
BEFORE YOU GO