In a black-sequined, orange fur-trimmed mini-dress, David Charles Baker certainly presented an arresting vision.
Salt Lake City Police arrived at Baker's home on Sunday afternoon after receiving a report that Baker may have left an explosive in his friend's driveway, the Salt Lake Tribune reported.
A four-hour standoff ensued when Baker, 47, barricaded himself inside his house, according to KSL. He was arrested at around 6:30 pm, after SWAT officers used a tactical vehicle to break through his front door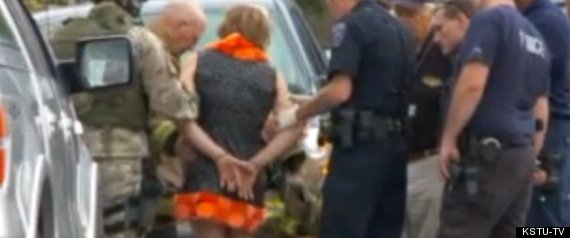 Baker was reportedly heavily armed, and had planted several devices that appeared to be explosive outside his home and the homes of his neighbors. 40 homes in the area were forced to evacuate during the standoff.
An investigation of the supposedly explosive devices found that they were actually fake military cases that looked like explosives.
Police said they've had their eye on Baker for a while. He has been on local and federal watch lists because of, in part, his declining mental state and his extensive online presence.
On the Internet, Baker appears in YouTube videos where he claims to speak to God, posts apocalyptic messages, and appears to be running a write-in presidential campaign with God as his vice president.
Neighbors told KSTU-TV that Baker has always been quirky, but things had gotten stranger in recent weeks, after his wife appeared to have left him a few weeks ago.
When Baker finally surrendered, he was wearing a mini-dress accented with black-sequins and orange fur trim, Newser reported. It is not known whether the dress belonged to his wife.
Baker was booked on charges including weapons violation, fleeing and causing property damage, interference with an arresting officer, making threats against life or property and mail theft.
He is currently at the Salt Lake City Jail in lieu of $102,405 bail.
BEFORE YOU GO
GALLERY: DUMB CRIMINALS
PHOTO GALLERY
Dumb Criminals: Mugshot Gallery